If you're on the fence on whether to build or buy a chicken coop, you're not alone. The amount of information out there is overwhelming!
In this article we'll take a look at all the angles of both building and buying a chicken coop to hopefully provide a lot more clarity on the dilemma.
There's no right or wrong answer here. It's just a matter of determining which option best suits your life and preferences.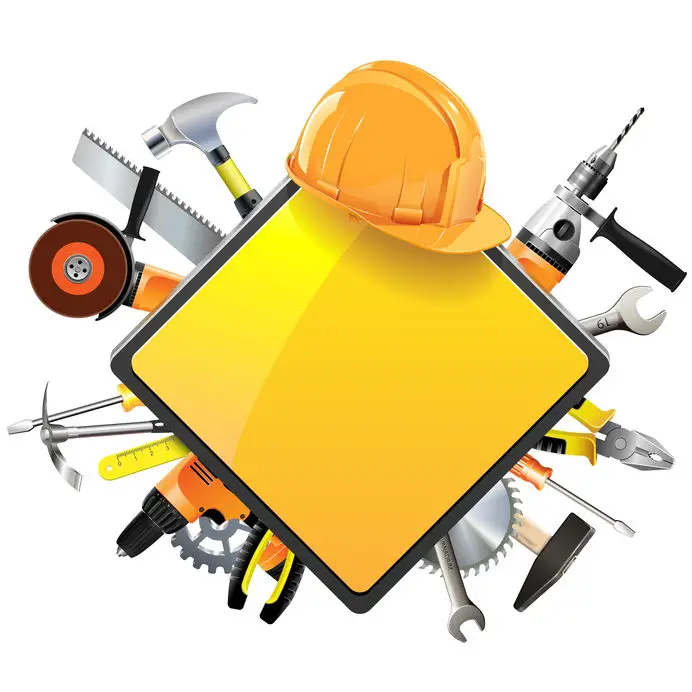 Building A Chicken Coop
This is a common option for many people. It's challenging and fun to take on a project like this! However, it can also be a daunting task at times leading some to simply opt for buying one instead. We get it!
But let's take a look at the advantages and disadvantages of building a coop before making a snap decision one way or the other.
PROS
It saves money – It's not hard to spend well over a thousand dollars for a chicken coop, especially a quality coop. If you've got the gumption, building your own quality coop of the same caliber will cut those expenses in half. The trade-off, of course, is time and sweat! You can save even more money if you build with re-purposed building supplies.
You can customize it however you like – When you buy a chicken coop at a store or online, you can choose their coop design, and that's it. If you don't like the shape, roof design, dimensions, etc., too bad. That is what's offered. But by building your own, you can pick the plan that you like the best and tweak the dimensions, add extra roosts if you like, or customize to get just the right coop for your needs.
You can choose whatever building materials you want – Buying a coop online can be a gamble when it comes to building materials used. Some coops, especially those most affordable, are made with flimsy materials that won't last much longer than a year or two without making some revisions or needing to beef up the quality a bit. You get around all that when building your own! Choose oak, cedar, or whatever type of building materials you prefer.
It's rewarding – Building something with your hands is an incredible experience, especially if it's for yourself and family. Seeing your flock frolicking in a coop you made with your own hands is worth all the time and effort expended.
It's a fun family activity – Since it's not like building a house or other large structure, you can get the kids involved too! When the flock arrives later, you can collectively enjoy watching them play, eat, and roost in a coop you made with your own hands.
It's a challenge – If you've never done a lot of DIY or construction projects before, it can be a challenge to take on a project like this! No worries. We at Free Chicken Coop Plans are not carpenters at all. But we enjoy taking on a good DIY project, though, so the time and effort involved in building it is worth it. Plus, there are a TON of how-to articles and Youtube videos on how to do it.
It's fun! No more needs to be said ?. Notice we said it could be fun, not EASY. It still takes some sweat (and possibly a few swear words) to put it all together.
CONS
Not knowing where to start – Building a chicken coop from scratch can be overwhelming to think about if you haven't built anything before.
Time commitment – Depending on your level of experience in construction and how large of a coop you're wanting to build, plan on a minimum of a weekend or two, possibly more.
It's hard work – Gathering all the lumber and other building materials from the store, unloading it, and then building the coop will be work. If you're making a large coop with heavier materials, you might even be a bit sore from the experience.
Not knowing if it'll function well for your flock or not – Worries over whether all the effort is worth it may also be lurking in the back (or front) of your mind as well. Can I do this? Will it be functional for the chickens? Is it predator proof? Will it fall apart? What if we decide we don't like having chickens? (something to consider if you've never raised chickens before). All of these fears can be minimized if you have a good chicken coop guide and a solid chicken coop plan to follow.
Not having a lot of construction experience – If you've never built anything before, plan on the whole process to take a bit of time and for a "learning curve" to take place. That's okay, and normal when learning anything new.
Okay. now that we've covered many of the aspects of building your coop, let's look at the advantages and disadvantages of buying a coop.
Buying A Chicken Coop
For many, this is an appealing option. You go to your local farm store or look online for the perfect coop, buy it, and you're done…right? Well, maybe. Let's examine a few of the reasons this may or may not work for you.
PROS
It's simple – First you determine how many chickens you want in your flock and how much money you want to spend on a coop. Then find a coop that meets those requirements either at a farm store or online.
It's done for you – If you're averse to building ANYTHING or don't have the time, then buying is a great option.
It's convenient – No sweat required. Just head to the store and pick one out. Or click the "Buy Now" button if buying one online. There are dozens of places to buy coops online. Also, it eliminates all the hassle of looking for just the right building plan, and then going through the effort to build it once you've found the design you like.
Saves time – When you want to get chickens right away, getting a coop set up and functional is very simple and takes a fraction of the time it takes to build one.
Less work – If you're already exhausted from the work week, having to build a chicken coop on your days off may not be all that appealing. Thus, buying a prefabricated chicken coop can be a great alternative.
CONS
More expensive – What comes with the convenience of buying a ready to use chicken coop is the price. You'll have to decide for yourself what fits best in your budget. Larger coops that are well made can cost thousands of dollars and sometimes you still need to assemble it when it arrives.
Hard to customize – What you see is what you get when it comes to buying a new chicken coop. You'll have little to no say in making revisions to the design unless you do them yourself. You can find custom builders to make one for you. However. if you go this route it will cost even more. But some flock owners feel this added expense if worth it for getting the coop design they feel will work the best for their situation.
May or may not be quality materials – New coops in the lower price range (under $200) can be made of flimsy materials that crack and warp within a year.
Less choice on size, color, and design – Again, unless you find a custom builder, you'll have to make changes on your own. Don't like the color? Tough. Paint it another color yourself or live with it.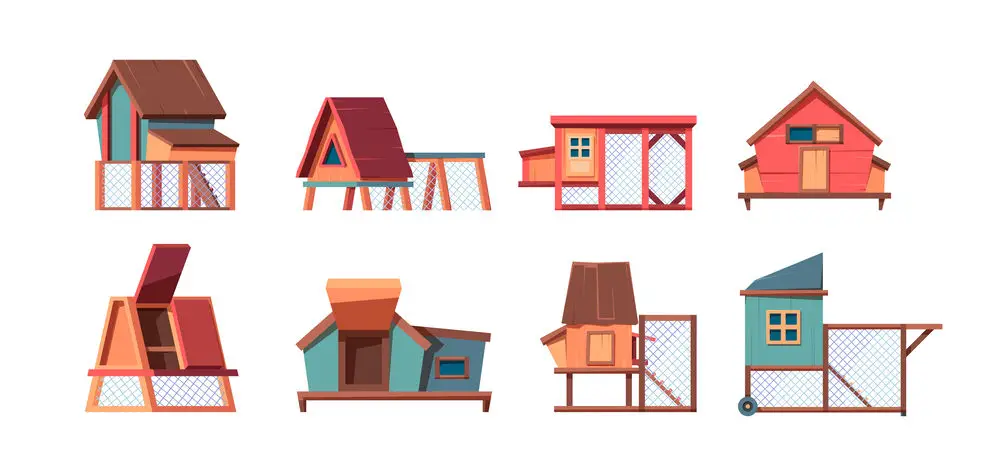 Other Ideas
If neither buying of building a coop sounds good to you, there are a few other ideas that you can consider and still get a great chicken house.
Used coop
Some people who try their hand at raising chickens decide they no longer want to pursue this hobby or passion. Whatever their reasons are for getting out of the chicken biz, they are left with a used chicken coop on their property that now needs to be removed.
Finding a used chicken coop can be an excellent alternative if you're wanting to get started raising chickens but don't want to spend a lot of time or money upfront.
Used chicken coops will sell cheaply on Facebook Marketplace or Craigslist. We've even seen a few FREE chicken coops on Craigslist before!
The trade off when buying a used coop can be the overall condition of the coop. You may see cracks in the wood, loose shingles, rickety roosts, cracked windows and the like. However, if you're creative, those repairs can be done cheaply and you're all set for raising a flock!
With a little spit shine, you'll have a coop that not only works great, but will look as good as new. While you're fixing it up, add your own flare to it with a cool paint job, landscaping, or decor.
Custom Made Chicken Coops
If you're wanting to get a coop design that's not seen in any of the prefabricated options and don't want to bother with building one, consider having one custom made.
Custom made chicken coops will cost more but you'll have peace of mind knowing what materials it was built with, who is building it, and have a live person to talk to if something goes wrong with it.
Not only that, you can talk to the builder about what you want in the coop. For example, if you want to use a tree branch for a roost instead of a 2×2 board, the builder can accommodate that. Other modifications could include adding more nest boxes, adding a run to the outside, specifying what roof materials you'd like to use, and more.
Companies that make beautiful custom coops are Green Garden Coops, Carolina Coops, and The Hen House. Another solid option is the Eglu coop.
You can also check for local builders in your area which save a bundle on shipping and also support a local business.
Convert A Shed Into A Chicken Coop
If none of the above options are gonna cut it, we decided to mention yet another option: converting a shed into a chicken coop. You may already have an existing shed on your property that can easily be turned into a chicken coop.
Examples include a utility shed, garage, pole barn, tool shed, greenhouse, dog house, and the list goes on.
Some of these conversions can be very simple to do, while others are much more complex. Much of the time, though, if you add a roost, some nest boxes, and a door for them to go in and out, you've got the basic set up already there!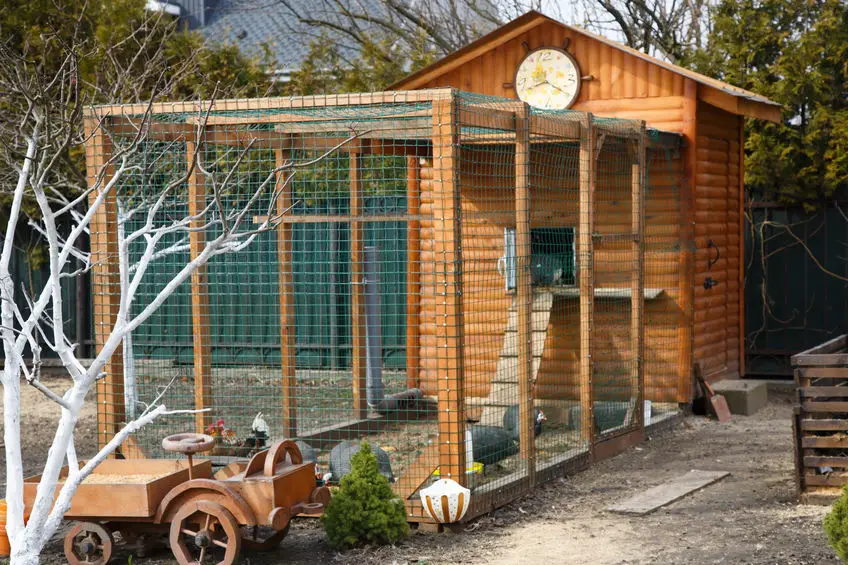 Final Thoughts
We hope we've given you some useful insights here. Making a decision to buy or build a chicken coop is an entirely personal one.
It depends on many factors such as how much you want to spend, whether you like doing DIY projects, or just want to skip all the construction and just buy one.
As mentioned earlier, there's no right or wrong answer. Just choose what will work best for you and your flock and you can't go wrong!
Thanks for stopping by and happy "chickening!"
Like this post? Pin it