Never heard of a chicken ladder? You're probably wondering why on earth a chicken would need a ladder! But hold on, we're going to explain what purpose they serve along with some spiffy ideas on using them, building them, or buying them. There are MANY chicken coop ladder ideas to explore.
Come on, let's jump right in!
What Is A Chicken Ladder?
Ironically, when you mention a chicken ladder to someone, they may interpret that as an actual "chicken ladder" used in the construction and roofing industry. But we aren't here to discuss that one. We are going to cover a ladder designed specifically for our feathered friends.
Chicken ladders (for cluckers) provide a way up into a coop. They also serve as a roost inside the coop. Moms and dads of chickens worldwide have gotten pretty darn creative in making them! Now you have to remember that chickens aren't like dogs who can go upstairs with ease.
The tiny little feet on chickens do better going up a non-slip ramp of some sort, or rungs (crossbars.) For them to maneuver their way upstairs, they would have to flap to lift themselves step by step, and that's no fun, especially after a long day of foraging outdoors!
If you're needing help designing your coop, read this article as a guide to get started.


Repurpose Goods Made Into a Ladder
We just love turning unwanted items into something new again, especially when it's unique and far from the mundane. So, just what can we look for to make a chicken ladder? You have to get creative and think outside the box. Try to imagine the object being tilted upwards as a ramp. Does it have something the chickens can grip onto to move up and into the coop?
Sides of a Baby's Crib
Disassemble a crib (if it's still intact.) 

Take one panel and saw off the ends of the top spindles as well as the legs.

Sand down to remove splinters.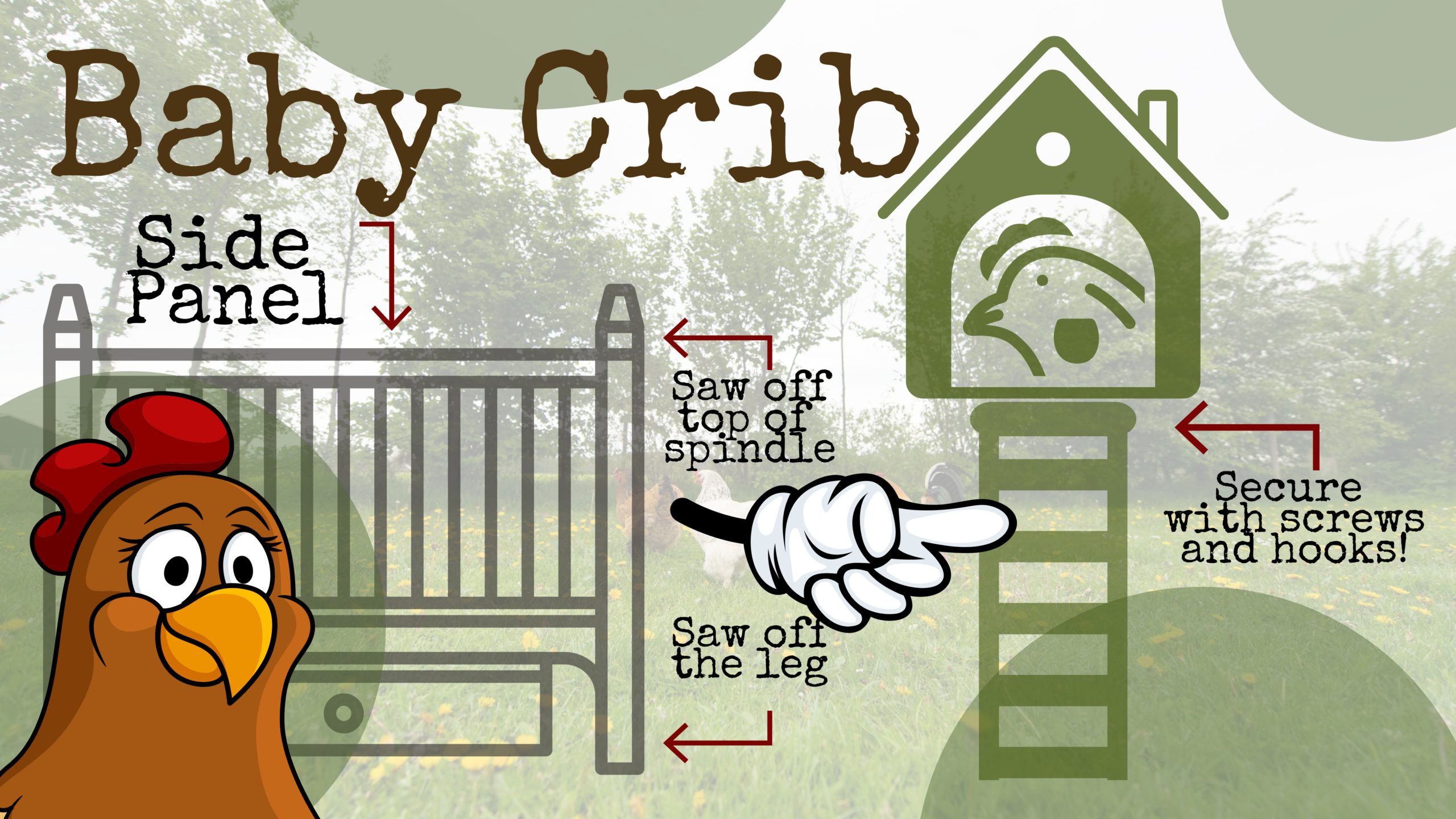 Above Ground Swimming Pool Step Ladder
If someone you know is getting rid of their above-ground double-sided ladder, you have an instant chicken ladder! If the opening of your coop is lower to the ground, you can always use the pool ladder inside the coop as the perfect DIY chicken roosting ladder. It can't get any easier than that.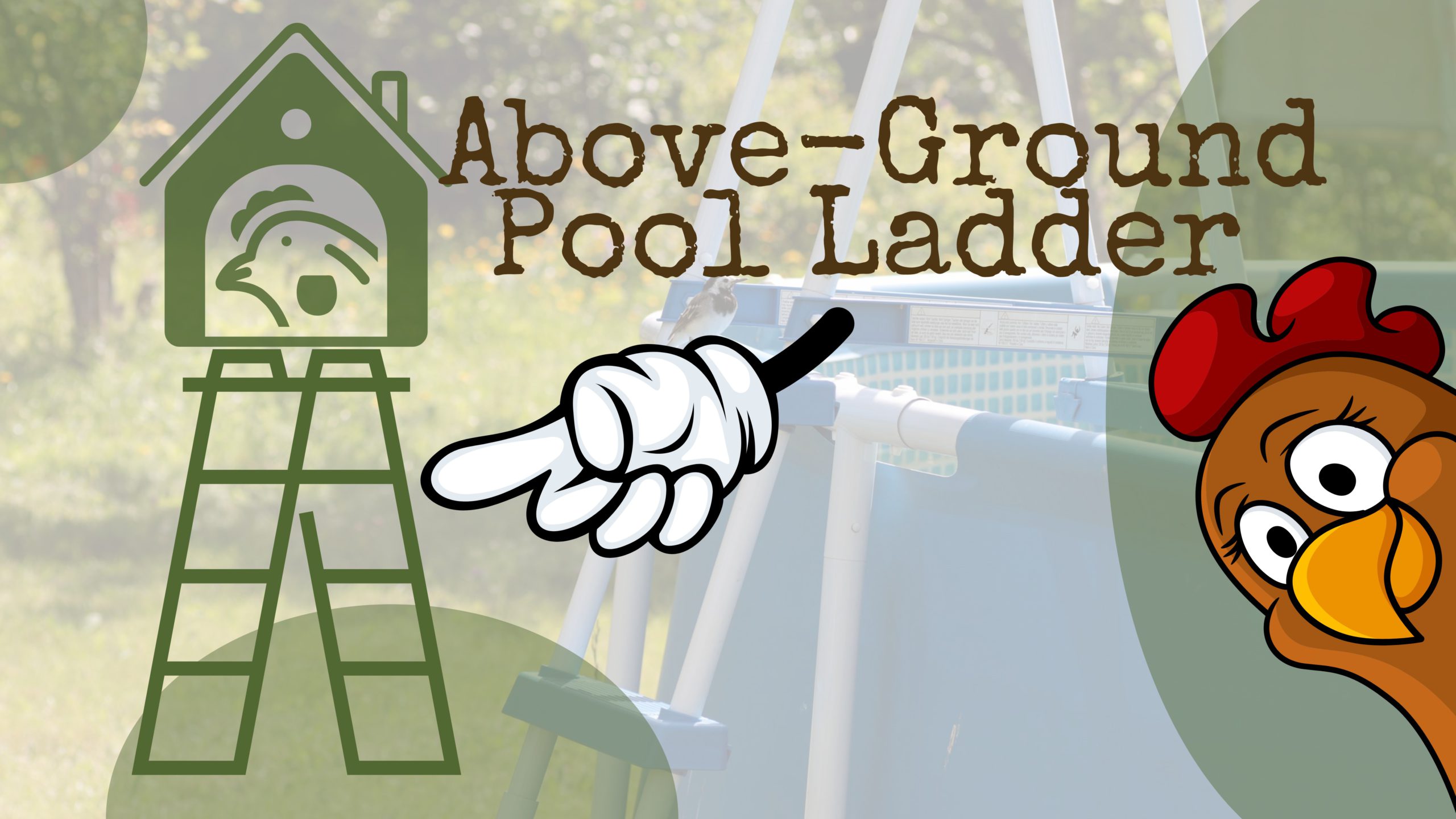 Wood Pallets
There never seems to be a shortage of wood pallets laying around. Many stores place them out behind the store. We bet if you go in and nicely ask the store manager if you can take a few, they'll tell you to take all you want! You can also find them for free or very cheaply on Craiglist. 
Oven Racks
Old ovens lying around have instant chicken ladders inside! Oven racks make perfect ladders for your chickens to get up to their coop. If you find your chickens falling through the slots, you may have to add a board or piece of plywood underneath for added grip.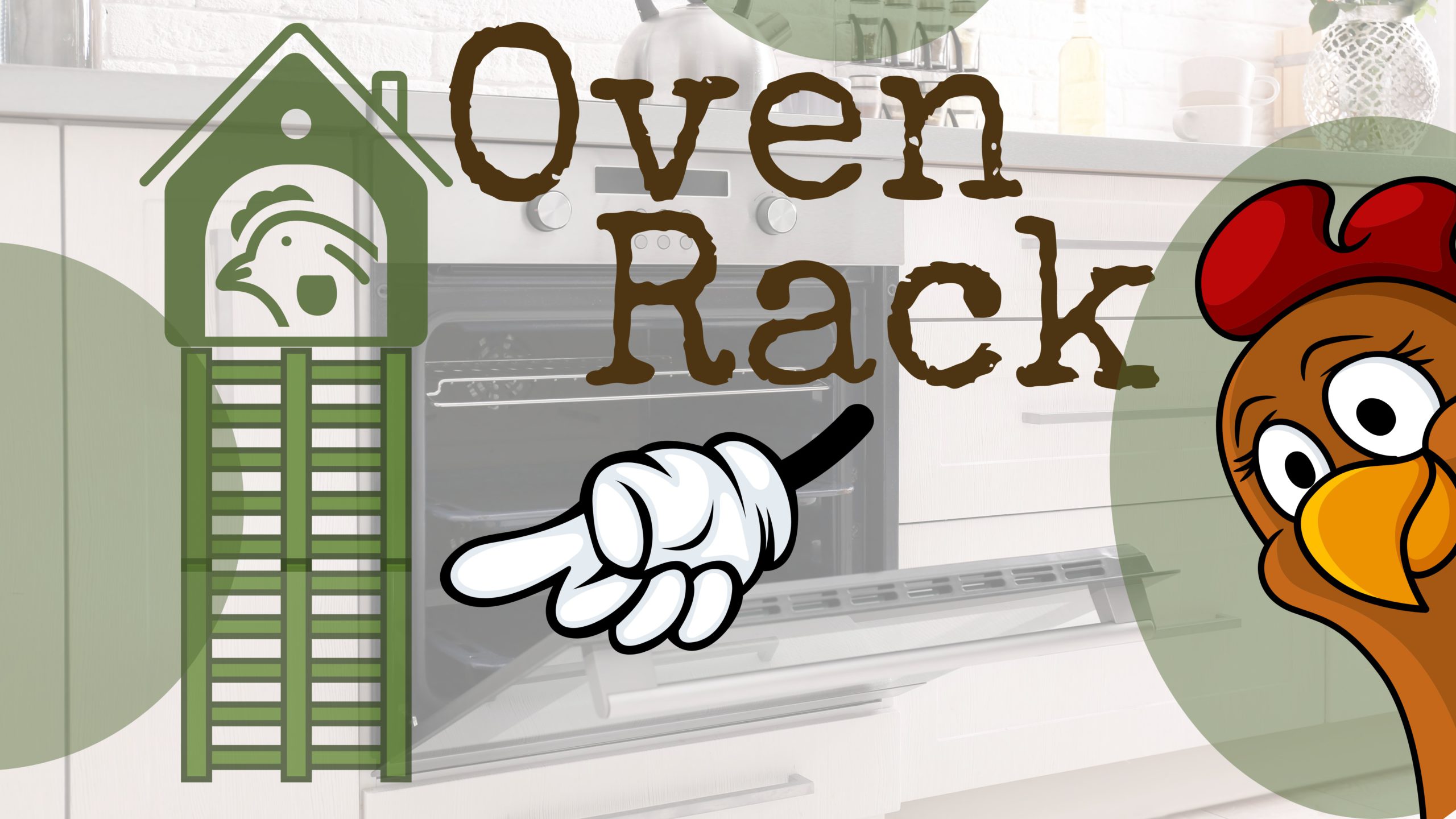 An Old Slide from a Swingset or Outdoor Play Equipment
Those little plastic slides connected to children's outdoor play equipment make a great chicken-ladder-ramp. Don't forget to glue some carpet down on top of it, so your chickens have traction to get up and down easily. If you don't have carpet, you can paint the slide with non-skid paint used for steps and pool deck.
Asphalt shingles also work, but those may not be the best option if you live in a hot climate as they retain heat. Roll roofing is cheaper and will work just fine. 
Many of the above items can be found at places like Goodwill, used building supply stores, or Craigslist to save some money.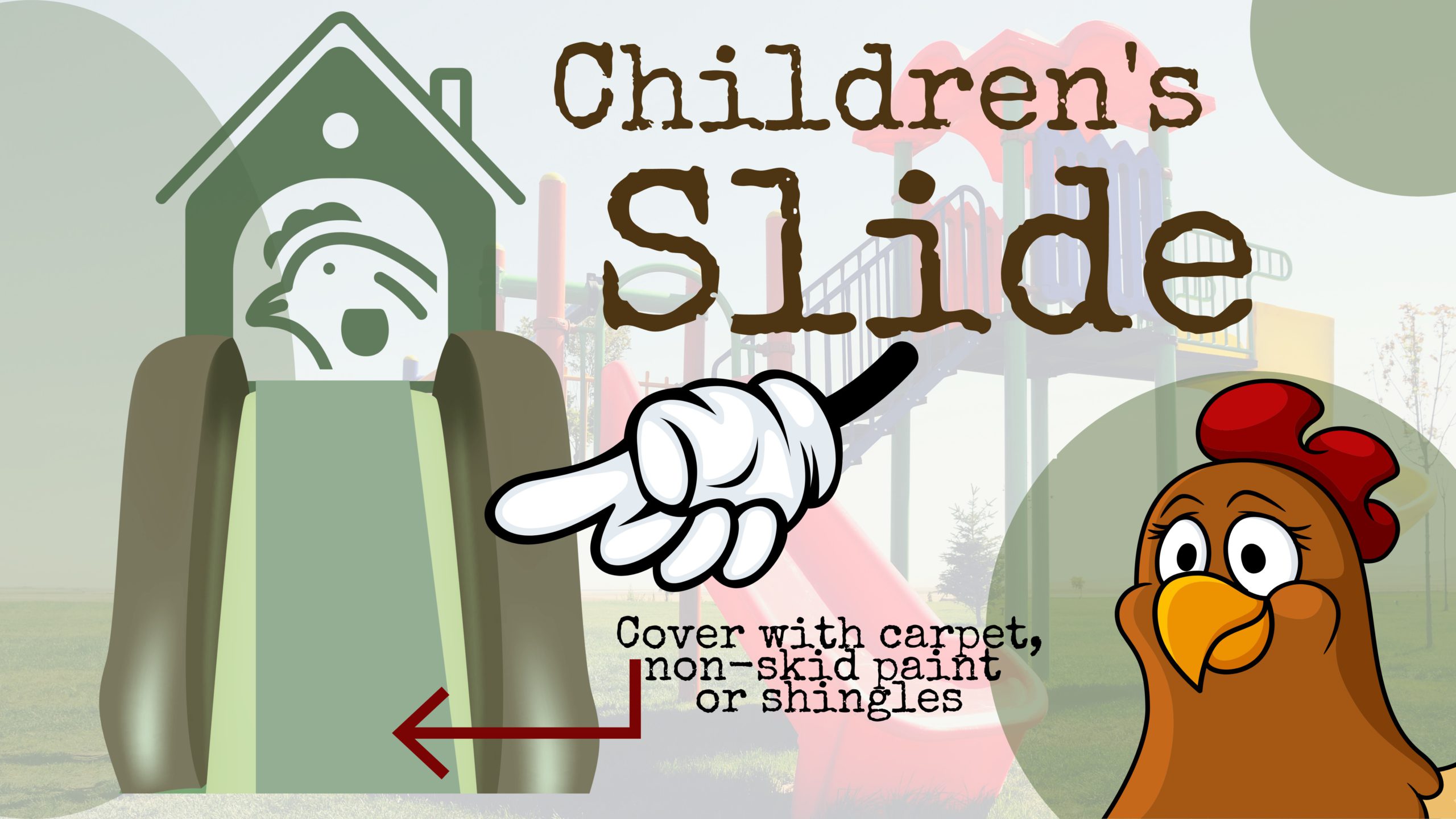 Some Other Nifty Things to Use
If it can be propped up and used as a ramp/ladder for your chickens, grab it! Now, as you drive along the streets and down the dirt roads, you won't look at junk the way you once did. In fact, looking for things you can repurpose becomes a treasure hunt!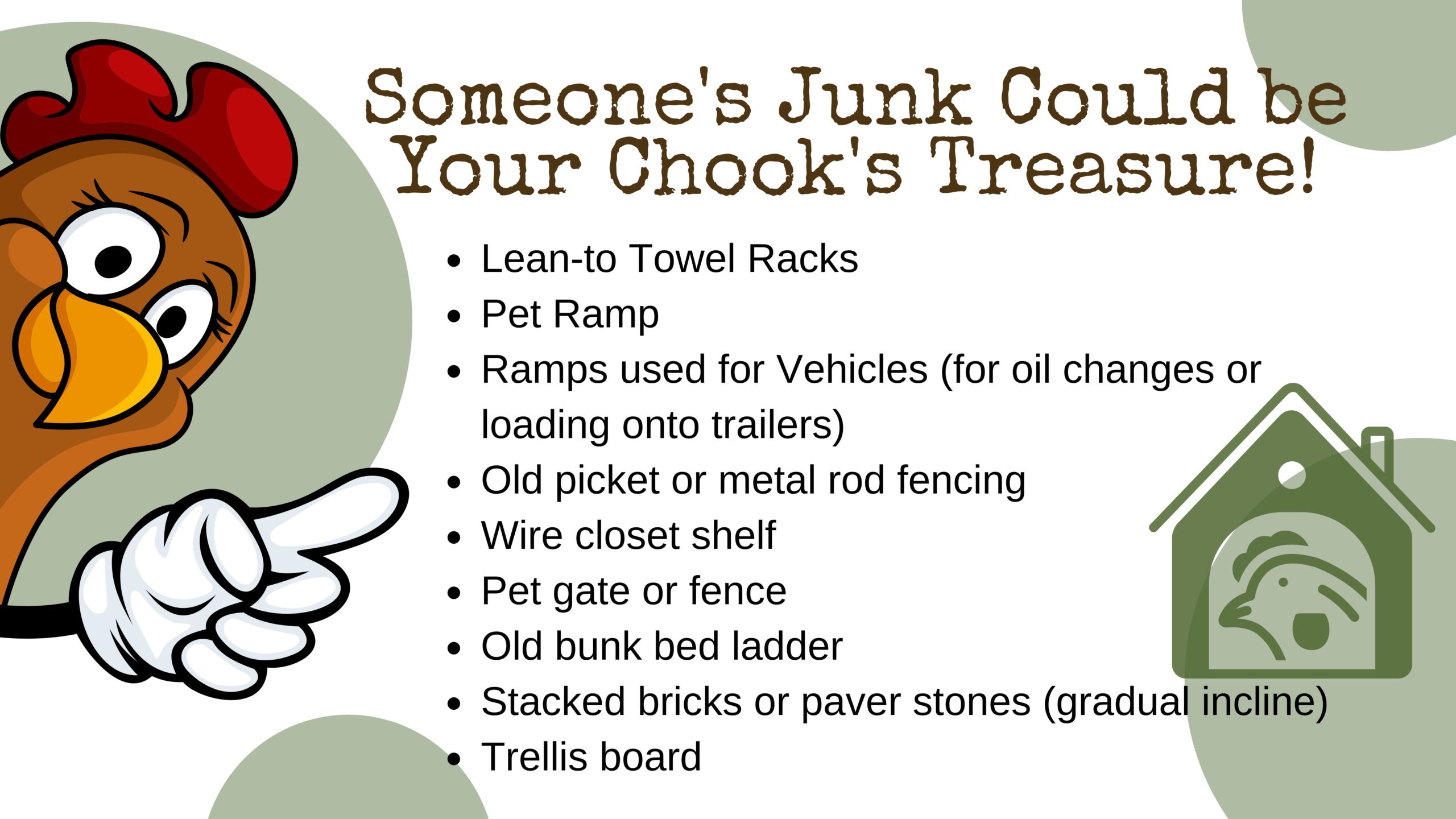 Building a Chicken Ladder
We're going to give you a couple of ideas to build your own wooden chicken ladder or ramp. Some of the materials may be right outside your back door!
Twig Wood Chicken Ladder
Materials you'll Need
2 small tree branches/limbs 

Sturdy and thick

Must support the weight of the chickens

Should be sturdy enough to nail/screw crossbar branches onto 

String, nails, or wood screws

Hammer, drill, or scissors

Saw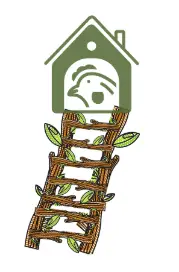 Gather smaller twigs/branches to use as steps (rungs.)

Attach the smaller twigs/branches to the two larger limbs using string, nails, or screws.

Once finished, lean up against the coop opening.
Wooden Ramp Ladder
Things You'll Need:
Saw

Drill

Wood screws

Plywood

Wood for rungs (slats, scrap wood, molding)

Exterior Paint or Sealant

Paintbrush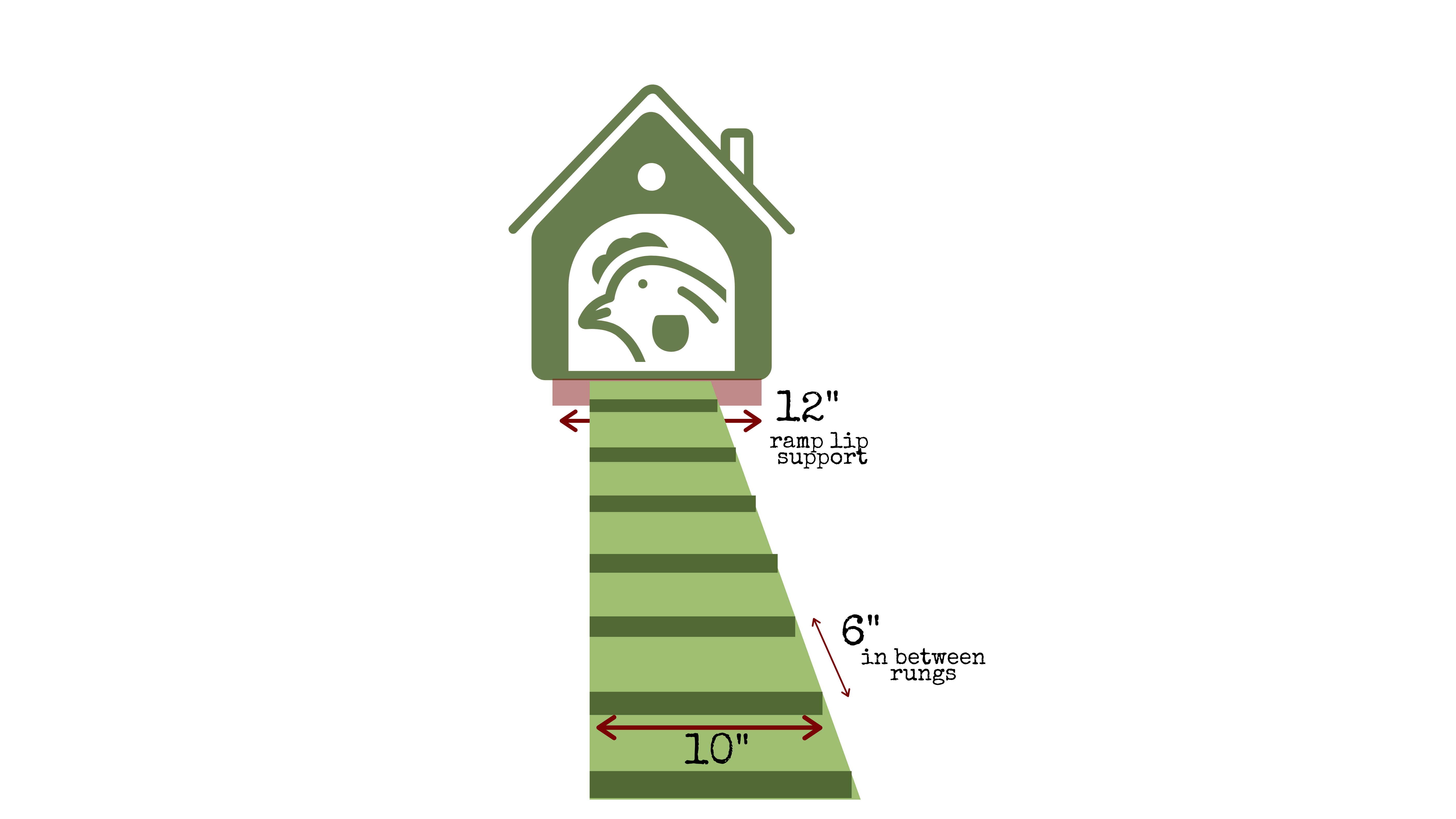 Mark your plywood to cut it to 3 ft. (L) x 10" (W)

You will need enough rungs to be placed 6" apart on your plywood. It might help to mark where the rungs will be placed on the plywood before applying the rungs.

Now cut the number of rungs you'll need. Each rung should be 10" long.

Screw each run into place on the plywood board (6" apart.)

Lastly, cut one rung 12" wide and screw that onto the bottom of the opening to your coop. This will act as a lip to support your ramp.

Paint and seal the ramp.

Place up against the coop on the "lip" support. Secure the ramp onto the lip with screws.
Interior Roost
If you have a ladder inside of your coop leading to the roost, it can be helpful to have a few roost ideas to attach your ladder to.
Here are a few ideas to consider for an interior roost using items from a "treasure hunt."
Old twin-size wood bed foundation (minus the fabric covering.) 

An old ladder or the twig ladder secured to the interior walls of the coop. This makes a simple chicken ladder roost!

Old twin size metal box springs suspended from the coop ceiling.

Garden trellis placed horizontally and secured to interior walls of the coop.

Place a small dead tree with horizontal branching into a bucket of quikrete. Make sure the tree is free from termites! Once the quikrete has dried, place the small tree into your coop for a natural place to roost!
Don't forget to provide your chickens with a way to get up to the roost! For other roost options, see our article on roost ideas. 
The Last "Cluck"
Now you have a few ideas for a chicken ladder/ramp, so get out there and hunt away! We are confident you'll enjoy this project. Don't forget to shoot us a comment with pics of your inventive chicken ladders and chicken ramps once you're done.
Happy "chickening!"
Like this post? Pin it!