If you're looking for a chicken coop, it's good to know your best options! It may seem easy to find a chicken coop near you. Just go to your nearest farm store, pick one out, and set it up at home. End of story. Well, not necessarily.
What if the chicken coops they carry aren't quite what you're looking for, not the right design, too big, too small, too expensive, etc.
Options are good. In this article, we will look at a few places, both online and off, where you can find your next chicken coop without having to order one online and wait for it to ship from several states away.
By the end of the article, we hope you'll know the answer to the question that led you to our post, "Where are the best chicken coops near me?" 
Let's get at it!
Offline Options For Finding Coops Near You
The online world provides many ideas for finding chicken coops, but it can be fun to support local businesses and find one directly at a local store.
Farm Stores
It's a no-brainer. If you want to find a great coop that you can see before you buy, the farm store is the place to go. But there are a few positives and negatives of getting a coop this way.
Pros 
Getting a first-hand look at the quality of the materials.

Size – knowing how many chickens can comfortably fit in it

Staff – store employees who can provide useful information about coop setup, where to position feeders/waterers, and answer any questions you have.

Depending on the store, some farm stores offer setting up the coop in your yard – it may cost a bit to add this service, but will ensure you'll get off on the right foot.
Cons
Limited selection

 – you are limited to what they have on-hand. If you don't like the design, style, or price, you'll have to look elsewhere.

Price

 – with the advantage of all the help and support in the store comes a higher price tag. However, this can be very worth it if you're new to raising chickens as that first-hand knowledge helps get set up.
Online Options For Finding Coops Near You
There are a lot of places that sell chicken coops online. But if you're looking for local options, how does one go about finding one?
Use A Search Engine
Using your favorite search engine (Google, Bing, Yahoo, etc.), type in a few searches specific to your area to find chicken coop builders. A few examples could include "chicken coops near me," "chicken coop builders near me," If you are looking to buy locally, a simple search query in your favorite search engine will yield a few local results.
Most of the time, your smartphone or computer will have your GPS location programmed in already, so it will only pull up search results in your area.
As you can see in the image below, once you type in the specific phrase you have in mind, google provides a few alternative search ideas you can try.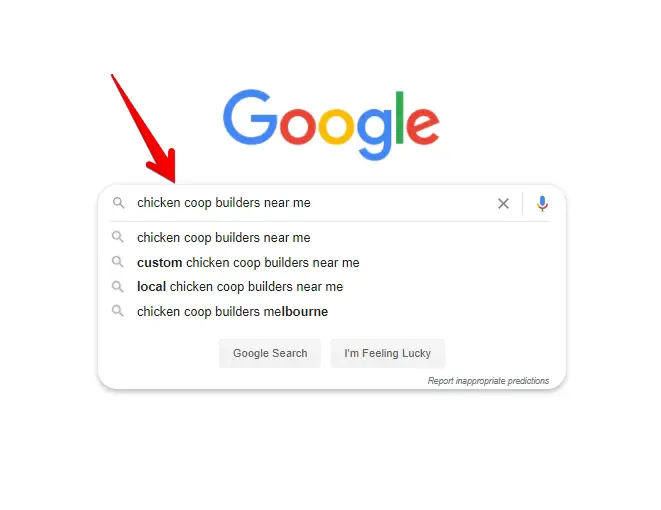 Craigslist
We recommend Craigslist a lot for a variety of reasons. It's a great site to find many affordable things for your coop. You can find repurposed lumber, windows, roofing supplies, and other supplies for building a coop.
But you'll also find used chicken coops there for a fraction of the cost of a new one. We discuss finding a great used coop in this article.
However, you can also find NEW chicken coops since many local custom builders post their coops on the site. It's easy to find some in your area by typing in "chicken coops," "new chicken coops," etc. And it's not uncommon for these builders to offer free delivery to local customers.
So not only is the coop pre-built, it can be delivered and set up right where you want it. You can ask the builder questions about the coop, the materials used to build it, and more.
Look at the screenshot below. You can find chicken coops in the "farm and garden" section.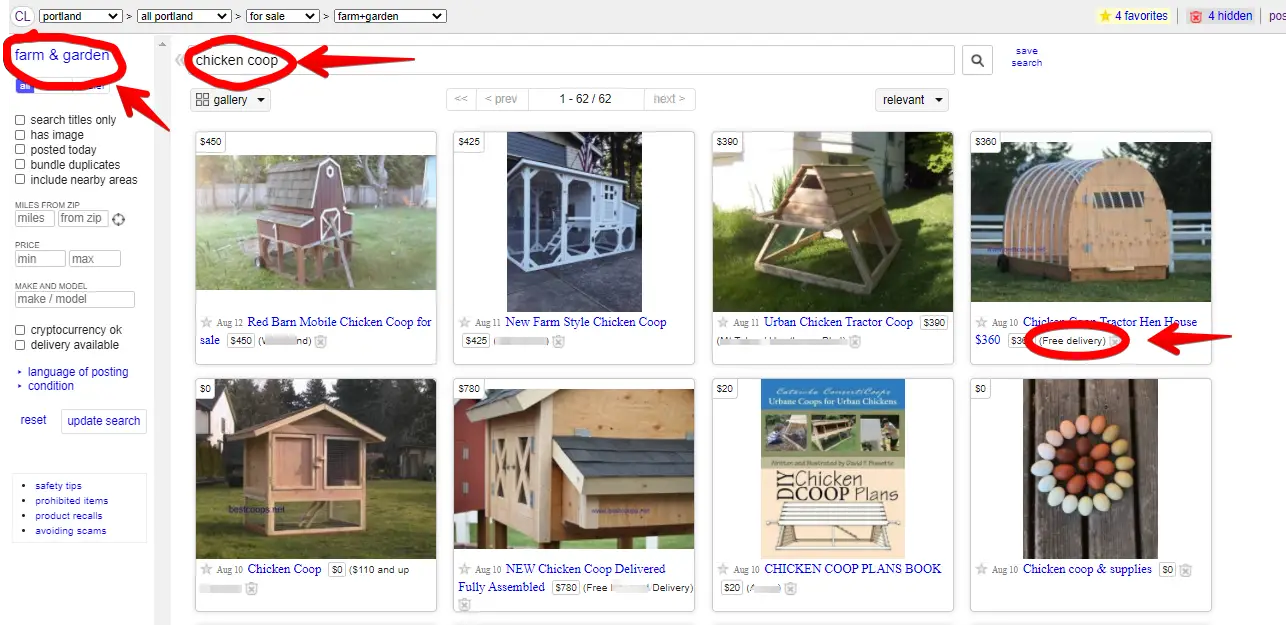 OfferUp
Like Craigslist, OfferUp is another excellent option for finding new or used chicken coops. As you can see in the screenshot below, sometimes you can even find free ones!
Although not as widely known as Craigslist, it can be a great option to check out.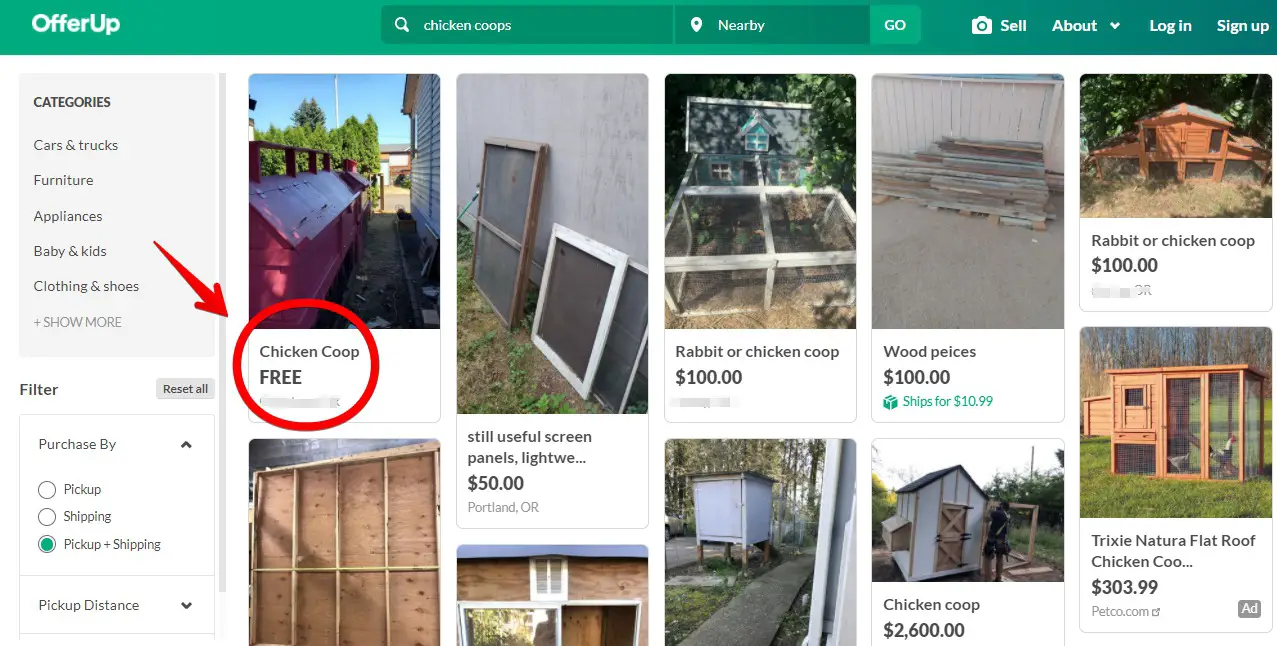 Facebook Marketplace
Hey, since we all love being on Facebook anyway, why not check out the Marketplace for a chicken coop? It's another excellent option to find new, used or free chicken coops in your area. You can access the Marketplace directly from your Facebook home page.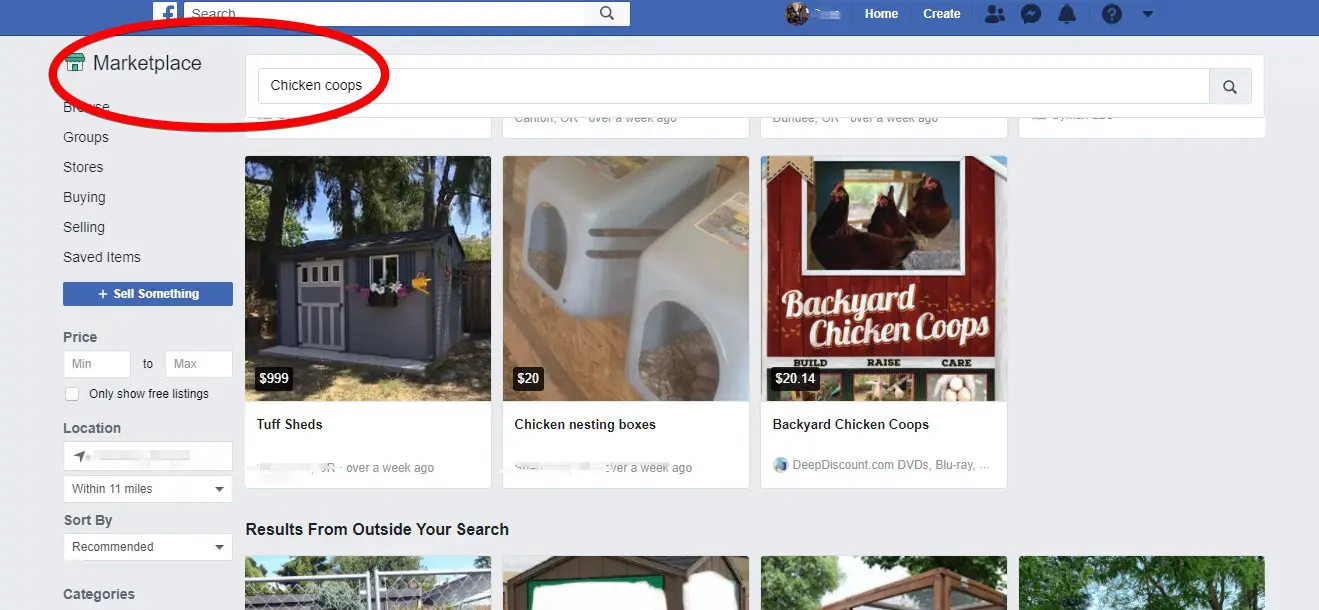 Letgo
Letgo works like Craigslist for buying and selling things. Though not as well-known, Letgo is worth keeping in mind when searching for your next coop. Being less known than Craigslist may work to your advantage as there is less competition or the coops that are listed.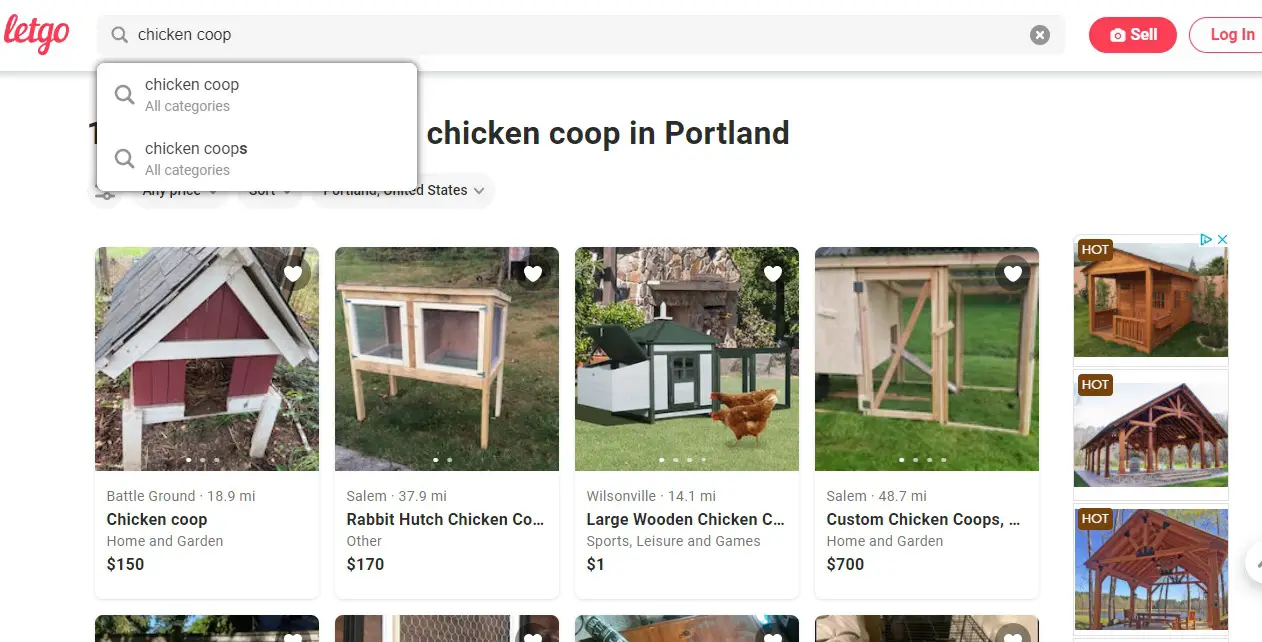 Oodle
Another marketplace similar to Craigslist, Oodle, can be a great place to find great new, used, or free chicken coops. It's free to use but requires you to connect it to your Facebook account.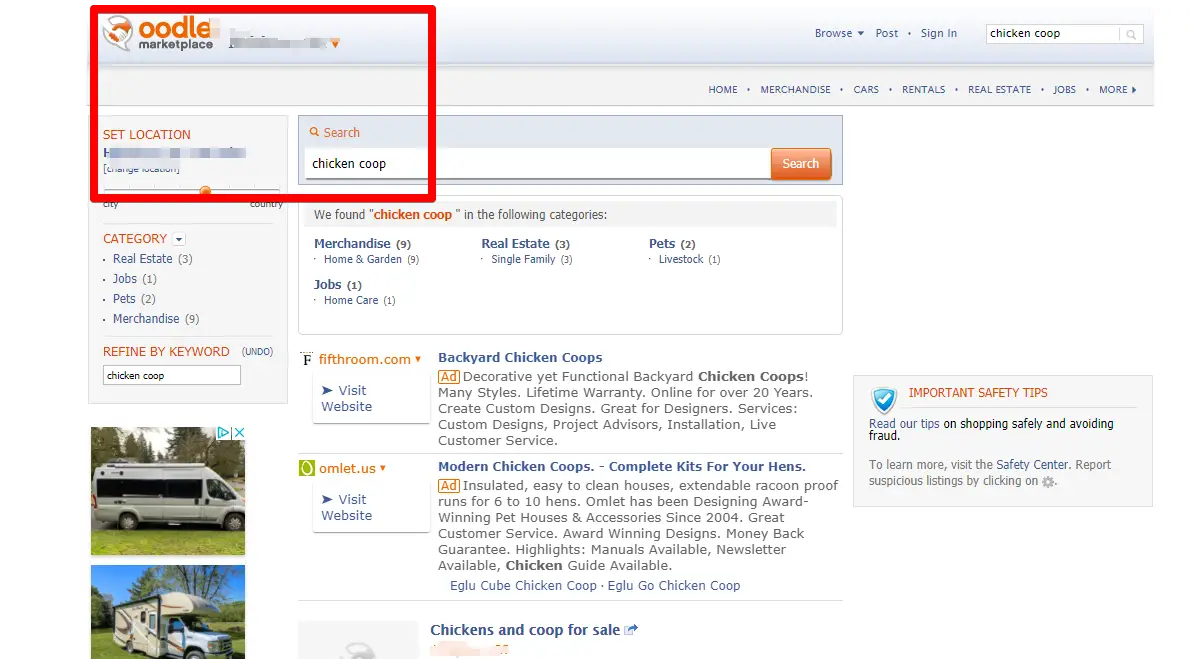 Other Online Marketplaces
The above are a few of the most common options to consider. But there are many other sites you can also take a look at which may also carry some sweet chicken coops.
Here's a few we found:
Final Thoughts
We hope you've found some viable options for finding chicken coops in your area. If you are looking for additional information on choosing the right type of coop and how to set it up, see our guide.
By checking out the options above, you can hopefully find a coop that fits your price range. If luck is in your favor, you may even find a FREE one. Granted, a free coop may be free for a reason – like it needs a lot of work to make it functional and look beautiful. But the trade-off in money savings can make it worthwhile!
Thanks for stopping by! Happy "Chickening."
Like This Post? Pin It