Chicken coops can be made from almost anything – revamping an old shed or camping trailer, using scrap lumber, PVC pipes, 50 gallon barrels, tarps, kits, pallets, and the list goes on. Wood is the most commonly used material for coop building. Depending on the size of your coop, buying new lumber can get expensive.
I was able to find a couple of businesses which sell used or scrap lumber and this worked nicely for my 4'x 8′ coop. I even found some used windows and a couple sets of unused shingles there. If you decide to build your coop with used lumber, be prepared to pull out some nails, cut out some broken pieces, and to be creative with what you find.
It takes extra time and TLC to build a coop using "recycled" wood – but I found the extra time well worth it in how much money I saved!  I also appreciated that it's environmentally friendly.
A view of my coop – I lucked out in finding a few stacks of new shingles to use! I also saved extra space inside the coop by building the nest boxes on the outside – you can see the row of nest boxes in the picture, jutting out on the right side (which is actually the back of the coop). There are 8 total boxes for them to choose from.
For ideas on coop designs, see this post.
Where To Find Coop Building Supplies
There are many options for finding some great building materials for your coop. Below are just a few ideas.
Craigslist
 Craigslist can be an excellent option for just about anything!  In doing a quick general search in the "Materials" option of Craigslist, I found a few things that can work nicely such as used plywood, used lumber, tin, old windows, a large barrel, nails and screws, and the lost goes on.
Also, don't forget to check the "Free" section – you never know what goodies are lurking there for your coop!  I have also done specific searches for chicken coops and occasionally see some great used coops people are just wanting to get rid of – this could be a great way to get a used coop at a great price!
There are similar sites like Craigslist where you can find building materials. Offerup, Letgo, and Facebook Marketplace are also good options.
Used Building Materials 
Almost anywhere in the country, you can find a place that sells used building supplies such as lumber, nails, windows, gutters, etc. The movement to go green is huge now and many people are looking not only to save money, but also protect our environment.
I am a huge supporter of businesses that sell used building materials.  Having said that, I must also add that it can be challenging to find the right amount of what you need.  These stores rely on donated materials and the amount and variety changes all the time.
For example, when I built my own coop I purchased nearly everything from a building materials salvage place near my house (Portland, Oregon).  I had it in my head I wanted metal siding for my coop.  Although they had a few pieces of nice metal pieces, it wasn't nearly enough to build an entire coop.
Lots of Choices for your Coop!
So because of this, I had to revise my plan or buy the metal siding new, which wasn't in our budget.  After talking to one of the staff working there, describing the size of the coop I wanted, and what features I preferred, he showed me some old siding.
We estimated it would be about the right amount, taking my into account some of the imperfections that had to be removed from the boards (large cracks, gouges, short pieces, etc).   Luckily for me – it worked out great!
Ideas For Coop Building Materials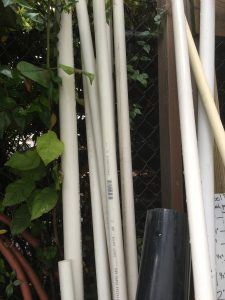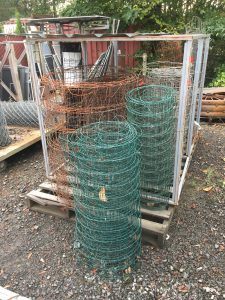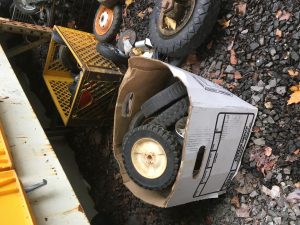 Pictured above are just a few ideas of things you can use in your chicken coop – visit your local rebuilding store and start planning!
Below are a few ideas that others have used to build their coops…..
---
PVC Chicken Coops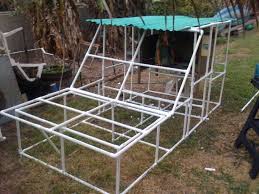 PVC Chicken Coop
PVC chicken coops can be an easy to make, reliable chicken coop. I once built a temporary chicken coop from PVC, used a tarp for the roof and it worked like a champ for the few months I needed it. As with anything, there are advantages and disadvantages of using PVC.
Pros: 
Easy to work with
Simple to build
Can easily be moved and/or taken down
Cons:
Is lightweight and can blow away in stronger winds
Can be hard to make it predator proof
Not as insulated for colder climates
My own experience has been that it worked great for a short term solution when I was raising some meat chickens. I made a large PVC hoop house for them (around 50 total) and it worked like a champ for the summer. Once we butchered them, I simply took the run down and stored it. It was easy to set up and worked great!
You can buy PVC at Home Depot, Lowes, or online. Look for the 1 1/2 inch diameter piping.
50 gallon Barrel Chicken Coop
You can buy or make one of these beauties for just a few chickens…or make a few of them for larger flocks! I love the look and functionality of these little coops.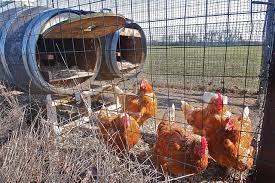 Pros: 
Easy to make
Lots of options on how to design (opening in front or side)
Can place up high, away from predators
Easy to move
Easy to clean
Cons:
Can roll away if not secured properly
Too small to house a lot of birds (but great for a couple chickens!)
Perhaps not the best look (but hey – make it artistic with some paint, artwork etc.!)
Barrels like this can be purchased at hardware stores or online.
Camping Trailer Chicken Coop
This may not be something everyone can do as finding as it may involve some added expense to make this happen! However, it'd be an excellent chicken coop if done correctly! You could convert an old camping trailer you already own if you're no longer wanting to camp…or people who have old, unwanted campers on their property will list them cheaply on Craigslist sometimes!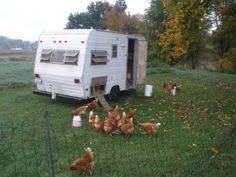 Pros: 
The structure is solid and nicely insulated
Rain and Windproof
Rodent and Predator proof
Mobile
Fixed up right (painted etc.), can be a great coop to look at!
Cons:
Can be a lot of work to convert into a coop (adding nest boxes, making hole in side for chicken door)
Can be expensive to find…Unless you own one or can find a cheap one to buy
---
Like This Post? Pin It

---
Converting A Shed Into A Chicken Coop
If you have an old storage shed, out building, dog house and the like…consider converting it into a chicken coop. I LOVE this concept. Think about it, the basic framing and structure is already in place, you just have to make it chicken friendly by adding roosts, nest boxes, and cutting out a door for the chickens to come and go.
Where to find a suitable shed to convert?
Your own yard – an old outbuilding or storage shed. Make it into a stand alone chicken coop, or simply partition an area of it for the chickens, leaving the rest of it for storage.
Craigslist, OfferUp, NextDoor are all options for finding affordable used and sometimes FREE sheds.
It will take some work to make a shed suitable as a chicken coop. But it can be worth it in terms of time and money savings!
For a wide variety of other shed plans that can be converted to chicken coops, see this article.
---
---
Closing Thoughts
As you can see, there are a lot of options that can be used to build your chicken coop – and I've barely scratched the surface here! But I hope I've at least provided you with a few ideas that have piqued your interest.
Think of something I missed? Please add your suggestion below or just comment if any of these ideas stand out for you! Thanks for stopping by.
For more information on building or buying your chicken coop, see this guide.