Are you searching for a chicken feeder that will meet the demands of your flock with less mess and waste?
Most of us end up going through several different feeders until we find the one that works the best for our chickens (and us.) Our chickens will come to appreciate being fed through feeders that offer easy access while preventing spillage that attracts unwanted pests.
We have researched numerous top-rated feeders as well as a few that are unique and undeniably downright practical!
Things To Consider When Choosing A Chicken Feeder
Beginners just starting out in raising chickens often make a visit to the local feed store to find a feeder. Odds are you'll be met with the typical cheap, thin metal feeder that looks like a bucket with a feeding tray attached. However, if you look around online, you can find feeders that have features that go beyond a bland, generic feeder.
Before purchasing your feeder, there are a few things to take into consideration.
Placement of the Feeder
If you have a small coop, it won't make sense to put a big feeder inside of it. Most feeders are set up in the run area. Also, if you get a feeder that is mounted rather than hung or placed on the ground, you will need to take into account where you will place it.
Capacity
Let's admit, most of us don't want to go out daily to feed the chickens. It's more convenient to have a large feeder that will keep them fed for a few days at a time. If we go on vacation, having that big feeder is a must. For flocks of 6 or more, you should have several feeders. However, for small flocks, one feeder will get the job done.
Budget
Most feeders are budget-friendly. Our wallets will love "DIY" feeders, especially if we have the items lying around that can be repurposed!
Pests
Unfortunately, where there's seed laying around, there will be rodents such as mice, rats, squirrels, and where there are rodents, other predators will follow suit, such as raccoons, possums, snakes, etc. If possible, your chicken feeder should be placed in an area that's not accessible by pests/predators.
To learn how to get rid of rats in the chicken coop, see this article.
Materials
Plastic/PVC and metal feeders are easy to clean, and when kept clean, they won't harbor mold. Wooden feeders may last a long time, but when the feed or wood gets wet or damp, mold can take hold and become a real issue.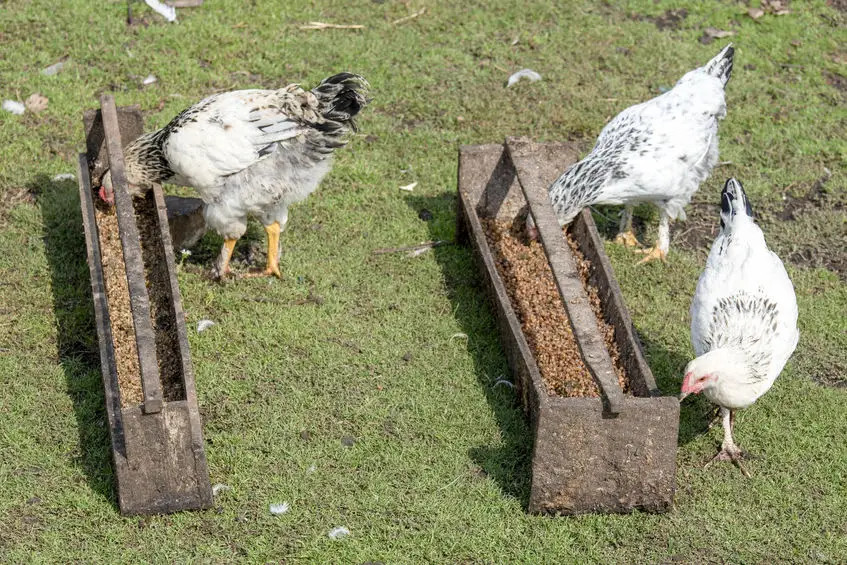 Types Of Chicken Feeders
There are basically three types of chicken feeders.
Automatic
Automatic feeders include treadle feeders and those that are controlled with timed closures that open/close. Chickens may have trouble learning to use treadle feeders because it requires them to stand on a pedal to open the feeder. Raccoons and possums are capable of learning this as well, so your treadle feeder may not be as predator/pest-proof as most assume.
Trough
A trough feeder is a long, open feeder that the seed is placed in where chickens can feed at one time. These feeders can be messy, with significant feed waste tossed outside of the feeder.
Hanging
Hanging feeders are perhaps the best option in trying to avoid pests from getting to the feed. These types of feeders include PVC pipe feeders, storage bins and trash can feeders, and those feeders with legs.
---
Our TOP TEN Recommended Chicken Feeders
These are our favorites and listed in no particular order. We hope you find one that jumps out at you. The last one listed, the 10 gallon feeder, is an add-on and just happens to be the feeder we use in our coop. So technically, there are 11 feeders listed.
Okay…onto the list!
DIY High-Capacity Solar-Powered Automatic Feeder
This is one of our favorites! A fellow chicken owner built his own automatic, high capacity chicken feeder. It requires a bit of extra work and creativity, can hold over 100 lbs, and the end result is very solid. The thread at Backyard Chickens has the tutorial for you.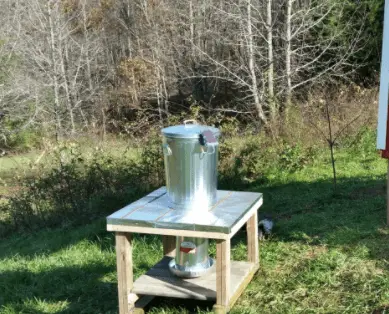 Materials Needed To Build:
Moultrie deer feeder with a solar-powered 6-volt battery
Galvanized metal trash can
Galvanized metal bucket
A 30-lb. chicken feeder
Drill
Jigsaw
2×4's
Ruler
Measuring tape
Level
Plywood
Wood nails and screws
Metal screws
L-brackets
Sheet metal
Royal Rooster Chicken Feeder
This feeder resembles the same construction and appearance as PVC pipe feeders. You have the option to buy both the feeder and waterer as a set if you wish. These are available at Amazon.
6.5 lbs capacity feeder (feeds 4-6 chickens) with rain cover.
Comes with mounting brackets for mounting on a wall or hanging on fencing or wire.
Made in Australia
Durable PVC UV-stable plastic
20" tall
1-gallon waterer with a valve drinking cup and rain cover.
Dimensions: 9 x 10 x 20 inches
This hopper feeder features durable, heavy-duty plastic with top-fill access.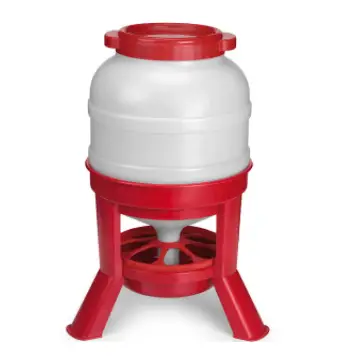 60 lb. capacity
Anti-scatter ring prevents waste
Three-leg design keeps the feeder up and off of the ground.
Made in Spain
Colors: red or white
Dimensions: 15 x 15 x 23.5 inches
RentACoop Chicken Feeder – Corner Placement, 2 Feed Ports
This chicken feeder is intended for corner placement and not designed for young chicks. It's available at Amazon.
20 lb. capacity

30-day feed capacity for 2 chickens
14-day feed capacity for 4 chickens
7-day feed capacity for 8 chickens

Cap included that prevents roosting and keeps feed dry.
99% of feed stays in the feeder preventing waste.
Fully assembled
100% food-grade, BPA-free plastic
Dimensions: 13.5 x 9.6 x 9 inches
Harris Farms 5 lb. Hanging Galvanized Metal Feeder
This durable traditional metal hanging chicken feeder is a popular feeder with great ratings! It can be found at Amazon.
15 lb. capacity
Heavy-duty galvanized steel with rolled edges
Convenient hanging/carrying handle
Spring-loaded clips
Dimensions: 11.63 x 11.63 x 11 inches
As a heavy-duty, highly durable feeder, this metal hanging feeder holds a hefty 30 lb. capacity.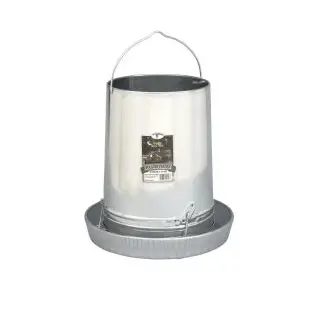 30 lb. capacity
Heavy-duty galvanized steel with rolled edges
Hanging handle
Dimensions: 13.875 x 14.25 x 2.25 inches
If you are looking for an artsy element to add to your coop/run, this chandelier feeder ought to do the trick!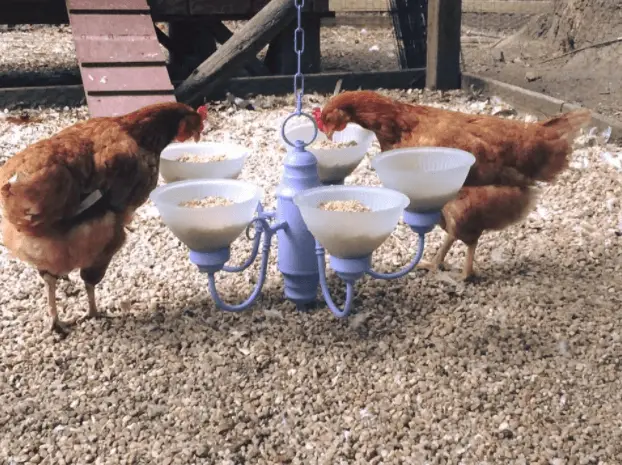 All you need is an old chandelier, a few tools, and some creative brain cells! Remove bulbs, lampshades, and electrical wiring. You can repaint the chandelier (minus the lampshades) with food-safe, non-toxic paint.
Glue the lampshades to the chandelier light receptacles with non-toxic glue such as glue from a glue gun. Super glue is unsafe to use. Attach a lightweight link chain to the chandelier and hang up from the ceiling of your coop/run. Fill with chicken feed.
Grandpa's 20 lb. Automatic Feeder
This is a treadle feeder that requires the chickens to learn to step on the pedal to open the feeder where the food is.
Galvanized steel finish
Chickens simply step on pedal for on-demand feeding.
20 lb. capacity
Dimensions: 17 x 15 x 2 inches
This feeder is very cheap to make and requires little carpentry know-how to construct.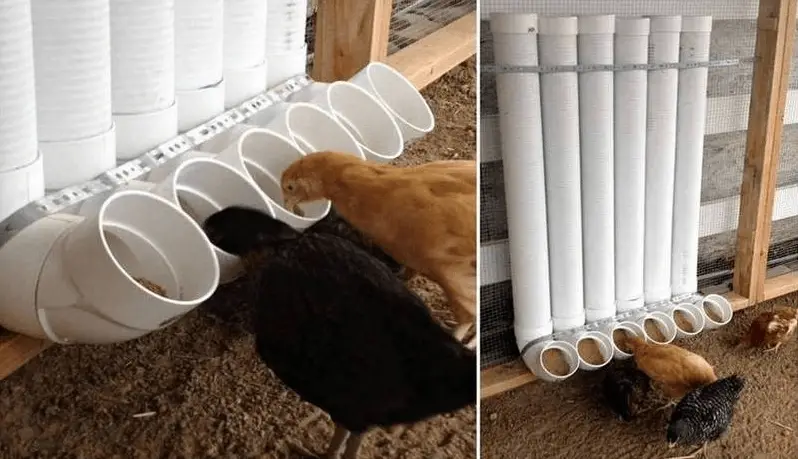 Items you will need:
10' of 3" drainage PVC pipe (cut into two 5' pipe pieces)
2 – 90 degree end cap fitting
2 – end caps
Heavy-duty utility knife or jigsaw
4 heavy-duty zip ties (20" each)
There are many ways to construct a chicken feeder with trash cans and storage bins.
Items you will need:
Trash can or storage bin
PVC pipe fittings
Jigsaw
Glue gun and glue sticks
Drill with a hole saw bit
I know…this is the 11th feeder here. We wanted to include it because this is the feeder we use in our chicken coop and we love it!
We made it several years ago and it's still going strong. It's definitely a "home-mader" and may not look as nice as the other feeders listed, but it's kept our chickens fed for years now.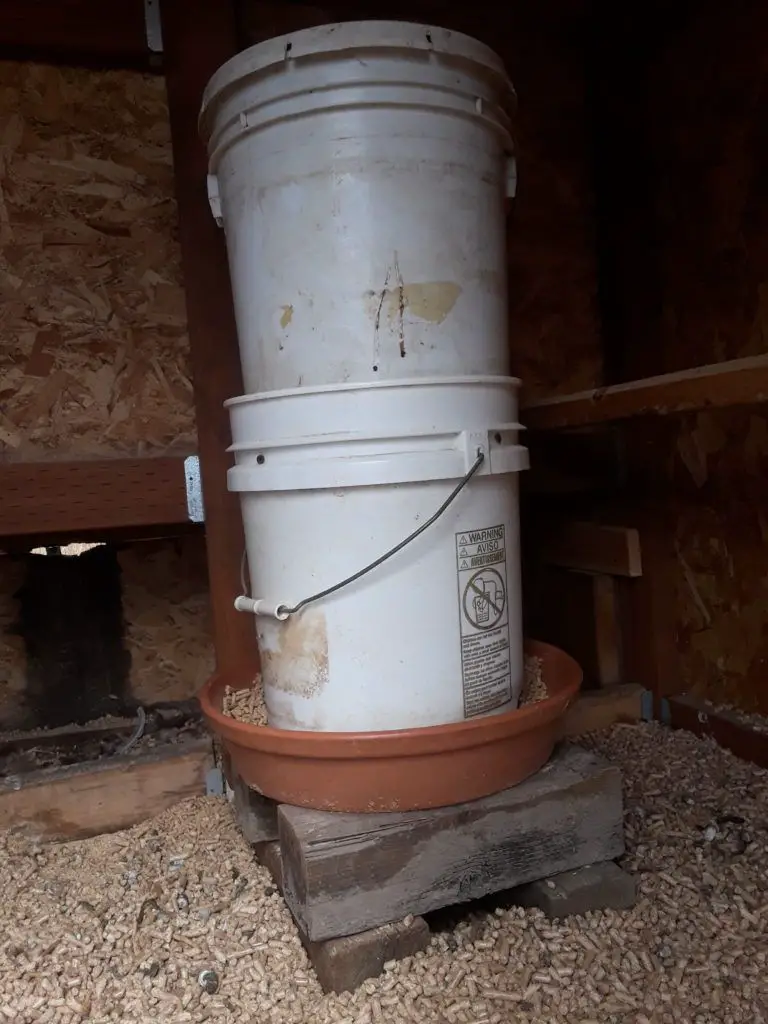 It's very solid, easy to use, and holds a 40 lb bag of chicken feed! It costs around $10 or less for two 5 gallon buckets, a planter base, and some screws. Details on how to make it can be found in this article.
Items you will need:
2 five gallon buckets (keep one lid)
1 planter base
About four to six – 2 inch screws (wood screws are fine)
A 5/16 bolt, nut, and 2 washers
If you like the 5 gallon bucket concept but don't want such a large one, just use one bucket…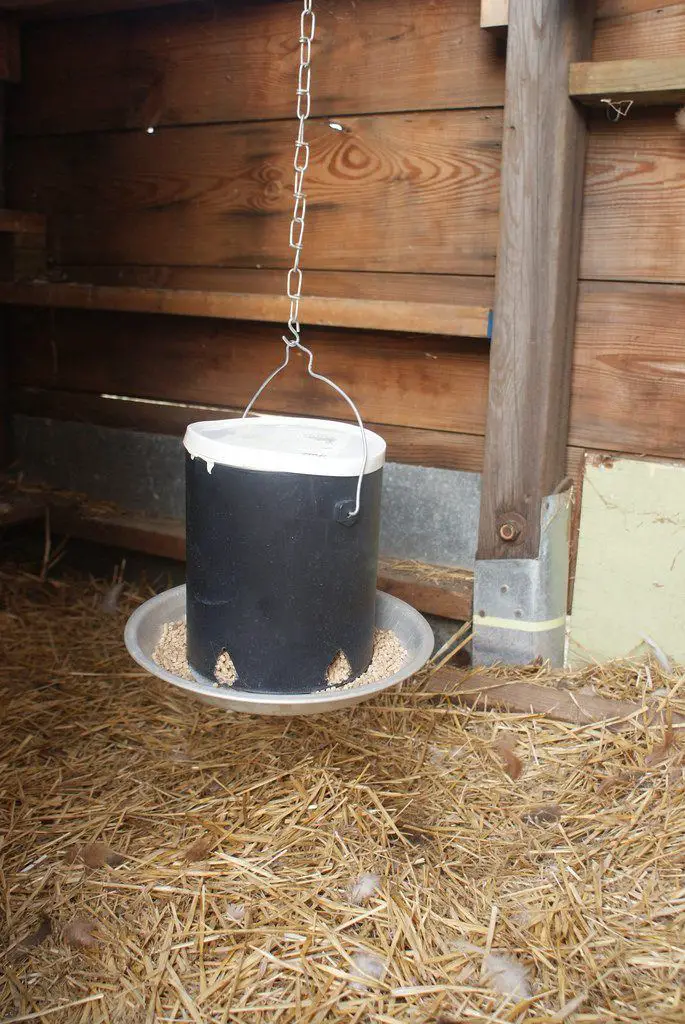 ---
The Last "Cluck"
So, there you have ten (actually 11) different chicken feeders that cover a host of needs. You can do a bit more extensive online research and find others that may strike your fancy. We've at least given you a head start.
If you're looking for other accessories for you coop, read this article.
Happy "chickening!"
Like this post? Pin it!