Siding is an important part of any chicken coop. It helps to protect the chickens from the elements and keeps them comfortable and dry. There are a variety of siding materials that can be used for chicken coops, including plywood, metal, and even recycled materials. It can seem overwhelming at times! Don't worry, we discuss many of the most common chicken coop siding ideas in this article, helping you make an informed choice!
Each type of siding has its own advantages and disadvantages, so it's important to choose the right one for your needs. We discuss a few of the most common types of siding that can be used for your chicken coop below.
WHAT TO CONSIDER:
1) Cost: High end siding materials can get expensive and not everyone wants to put the added expense into siding for the chicken coop.
However, if you plan to keep your coop for a long time, spending the extra money upfront is just being smart.
2) Time and Ease of installation: Some of the siding types listed below will take more time and are harder to install than others. Board and batten will take longer to install than plywood or vinyl. We encourage you to do the research on each type of material before purchasing siding for your coop so you'll know what works best for your time, budget, and desired coop design.
Where To Get Siding For Your Chicken Coop
Siding can be purchased at box stores like Lowes, Home Depot, Menards, or local hardware stores.
However, since a chicken coop is much smaller than a house, consider looking online at Craigslist or Facebook Marketplace.
Another option to consider is checking at your local used or repurposed building materials stores. You'll find some left over materials from home owners or contractors who had excess siding they simply donated there. You can buy it at a fraction of what it would cost new!
Okay – onto the 'meat and potatoes' of our article, covering various siding options for your chicken coop.
Types Of Chicken Coop Siding
We discuss several types of siding below, including both the good and 'not so good' characteristics of each. They are listed in no particular order.
Plywood
Plywood is a popular choice for chicken coop siding because it's inexpensive and easy to work with. However, it's not as durable as other options, so it may need to be replaced more often.
TYPES OF PLYWOOD SIDING:
–OSB: Oriented Strand Board is a type of plywood that's made from wood chips and shavings. It's very strong but is not made to handle the outdoor elements directly.
Because it's cheaper than other plywood types and easy to find, it's tempting to use as exterior siding. If you go this route, just realize your coop may not hold up as long over time. OSB can begin to soften and crumble when exposed to the elements over time.
Therefore, it is great when used underneath metal, vinyl, or other types of siding because it provides additional strength and aids in keeping wind out. This is helpful for chicken coops to reduce draft.
*Ventilation is important but a drafty coop is not healthy for your flock. Read more here.
–CDX: CDX is a type of plywood that's made from thin layers of wood veneer. It is durable and can last a long time when painted and maintained.
Look for the "X" as it's rated for outdoors. There are other types of CD plywood but not all are rated for outdoor use.
It comes in 1/2 inch, 3/4 inch, and 5/8 inch thicknesses.
–Avoid pressure treated plywood because the chemicals used in it can create harmful fumes for your flock!
–T-111 siding: T-111 is a type of plywood that's made from thin layers of wood veneer that are glued together.
Although not the highest quality siding to use, it can last a very long time when painted.
Pallets
Pallets can also be used for chicken coop siding. These materials are often free or very inexpensive, and they're also eco-friendly. However, they may not be as sturdy as other options.
Pallets are inexpensive or even free, if you find the right businesses who use them and want them gone! Check on Craigslist, Facebook Marketplace, or directly with businesses where you see pallets piled up outside. Industrial areas can be pallet goldmines.
Pallets can be used as siding by taking the pallets apart, carefully removing the boards. It's NOT an easy job, but can be done with a little TLC. Once removed, install them over the framing of the coop. Overlap each board overtop the one below it, going all the way to the top of the exterior wall.
Once completed, caulk the seams and paint. It takes a lot of work, but you'll have a lovely coop at a fraction of the cost! Next is a video of how it's done:
Fiberboard
Fiberboard is another popular choice for chicken coop siding. It's made from wood fibers that are bonded together with resin. Fiberboard is strong and durable, but it can be expensive.
It's made with wood pulp, cement, and other fillers which make it strong and resistant to rot and termites.
Vinyl siding
Vinyl siding is a popular choice for chicken coops because it's durable and easy to maintain.
It's waterproof and easy to find in many home stores. You'll have a lot of colors to choose from as well. Since you're building a chicken coop, it may pay to see if your local area has a repurposed building materials store.
Sometimes contractors or home owners have left over siding from house projects which is donated to these businesses. The leftovers may be just the right amount of material to build a chicken coop!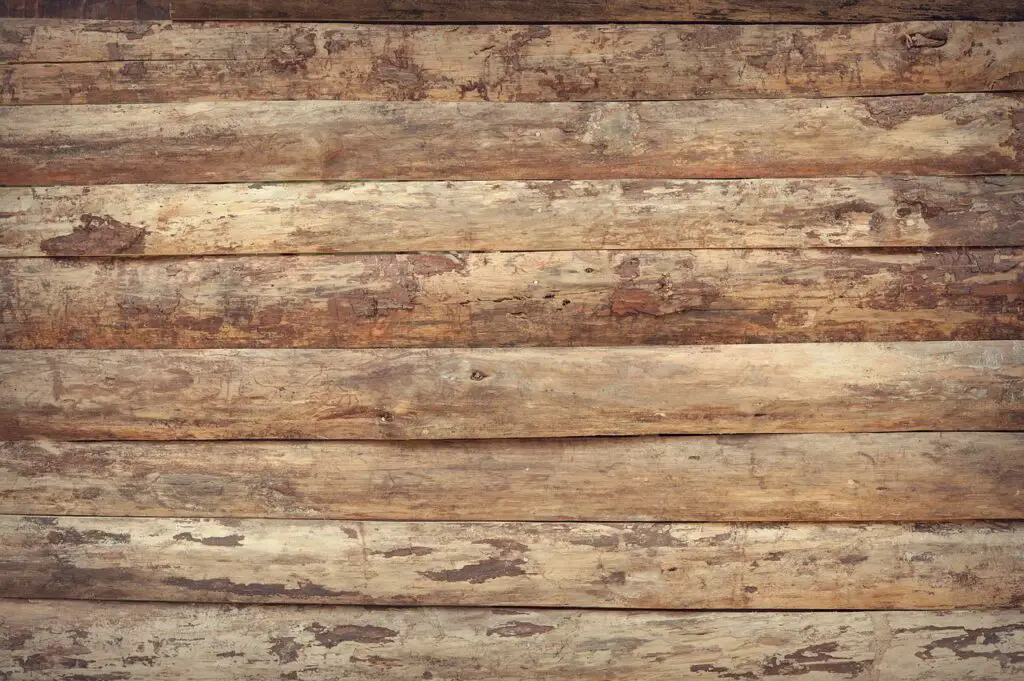 Hardie Board
Hardie Board is a type of siding that's made from cement and wood fibers. It's very durable and low-maintenance, but it can be expensive.
However, when installed correctly and maintained, it's an excellent siding. It is fireproof and, because it's thicker than vinyl, it has more insulative properties and can withstand wind and rain very effectively.
It will need to be properly sealed when installed, and will need to be repainted occasionally. It can also crack and, if so, water can get behind the board and create mold.
For a chicken coop, this may not be the obvious choice, but is good siding as long as you keep up with the ongoing maintenance.
Natural Wood
Natural wood siding is a popular choice for chicken coops because it's durable and looks great. However, it requires more maintenance than other options, and it may be more expensive.
Wood materials like Cedar, Redwood, Spruce, Pine, Oak, and Fir are a few of the more common types of wood used. Cedar is likely the best of the bunch due to it's natural ability to withstand the elements.
Wood siding can be purchased at your local home stores. As with other building materials, you can also find it at local businesses that sell repurposed building supplies. Craigslist can be another great place to search for siding.
It's a good idea to paint the wood siding once installed. With proper maintenance, wood siding can last a long time.
Both Tongue and Groove boards and Cedar Shakes are great choices.
Galvanized Steel
Galvanized steel is a popular choice for chicken coop siding because it's durable and easy to maintain. However, it's not as eco-friendly as other options.
It's not too difficult to install and, once in place, is easy to maintain. Just power wash it occasionally and you're good to go.
Over time, it will rust, but will give many many years of use before that happens.
Board and Batten
Board and Batten siding is a popular choice for chicken coops because it's durable and easy to maintain.
As with other types of natural wood siding, Cedar is a good material to use for board/batten design. It can be painted or stained easily, as can any other wood species.
The board and batten design is gorgeous and can add some flare to your coop design.
Final Thoughts
We covered many of the most common types of siding for a chicken coop here, but there are other options you can research as well. A few of those could include brick, manufactured wood siding,
We don't particularly choose one type of material over another. It really comes down to a personal choice. Regardless of which material used, we can guarantee your flock probably won't care!
Thanks for stopping by and Happy 'Chickening.