Most of us have no clue what a "Novagen" chicken breed is. Novagen chicken – It sounds rather "scientific-like," doesn't it? That's because it is a genetically enhanced hybrid of a chicken.
As eyebrows begin to raise, it's time to explain a little bit more about what some would say are "waddling science projects."
For information on other chicken breeds, see this article.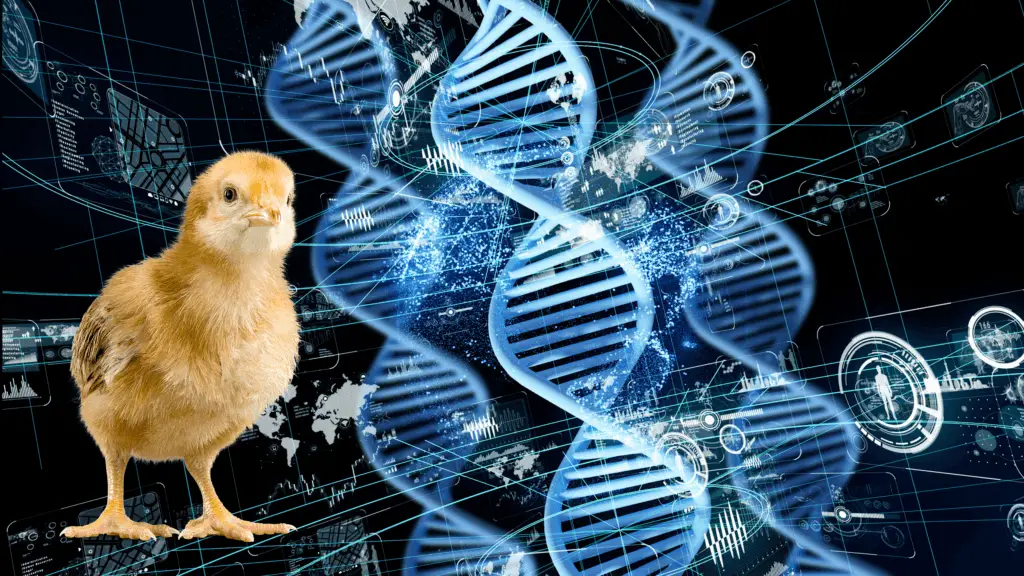 Novagen Chickens – Who And What They Are
If you think of a hand as being a parent company and the fingers being subsidiaries, then we have the perfect model to begin explaining what Novagen is. Except our hand will have six fingers.
Group Grimaud (the hand) is the parent company of six entities (subsidiaries) covering everything from genetic research to vaccines. Farming is in the middle of there somewhere. Group Grimaud is based in Germany and has numerous locations throughout the world (including the U.S.)
As a whole, Group Grimaud and its subsidiaries do research on genetic selection, biopharmacy (for humans/animals,) novel farming, and what's called natural concept (biology/life sciences.)
The subsidiaries under the parent company are:
Hypharm (genetic selection in rabbits)
Novogen (genetic selection in egg-laying hens)
Choice Genetics (genetic selection in pigs)
Grimaud Freres (genetic selection in ducks, geese, and pigeons)
Blue Genetics (genetic selection in shrimp)
Our focus is on Novogen in particular because of their development of five strains of hybrid chickens that are able to almost double (if not more) egg-laying production. These strains are said to be much more socially agreeable but robust and highly efficient.
Group Grimaud began the Novagen chicken program in 1997. They obtained various gene pools from Rhode Island Reds, Leghorns, Sussexes, and New Hampshires. Their research led them to developing hybrids (five strains) that are prolific egg layers.
Additionally, they managed to genetically alter the parentage genes to have a hybrid that is hardy, calm, and has the ability to be incorporated into various types of environments.
To look at a Novagen chicken, you would never know the difference between them and conventional breeds. However, the difference lies within their genes. A Novagen chicken is a prolific egg layer and a compact-sized bird.
They make a nice addition to a flock because they are docile and hardy. Feed conversion with these chickens is highly efficient. The commercial shell egg industry is the primary benefactor of this new hybrid because of the number of eggs they produce.
Novogen Brown
The Novogen Brown was developed to be easily managed in various environments. It is an overall red/brown color with white under-feathers. Its peak egg production is from about 20-38 weeks. Hens reach about 4 pounds at 35 weeks.
Novogen Light Brown
The Novogen Light Brown was developed to be high-producing layers and adaptable to various environments. It is also red/brown with white under-feathers. Their peak egg production is also 20-38 weeks, and hens are about the same size as the Novogen Brown.
Novogen White
The Novogen White has white feathers and a larger comb compared to the Browns. They are easily managed in various environments. Its peak egg production is from about 20-38 weeks. Hens are slightly smaller than the Browns, reaching about 3 1/2 pounds at 35 weeks.
Novogen Light White
The Novogen Light White Is the heaviest layer of all five strains. They, like the others, are adaptable to various environments. Its peak egg production is from about 20-38 weeks. Hens reach about 4 pounds at 35 weeks.
Novogen Tinted
The Novogen Tinted is white feathered with larger combs than the Browns. They, too, are highly adaptable in various environments. Its peak egg production is from about 20-38 weeks. They are the largest of all five strains reaching 4 ½ pounds at 35 weeks.
---
Like this post? Pin it
---
Where Can I Buy Novagen Chickens Or Hatching Eggs?
Novagen chickens are ever so slowly making their way into the U.S. There are very few hatcheries who sell them here in the U.S. We have listed them below. You won't find any Novagen Whites in the U.S. because the Brown is the only available strain.
U.S. Hatcheries With Novagen Chickens For Sale
Note that although we list the hatcheries (in the U.S.) who are selling Novagen chickens, we do not endorse them nor offer any recommendation.
The Pros And Cons Of Novagen Chickens
There are advantages in raising Novagen chickens as small flock owners because we reap the benefits of having a wonderful supply of eggs. The overall demeanor of this hybrid is said to be quite docile, friendly, and calm. Whether you live in the north or the south, they are claimed to be hardy and adjustable.
However, on the flip side, many of us may not see genetic alteration as ethical. The research and overall goal in developing this genetic strain of "super-layers" is to supply the commercial poultry industry with battery cages full of egg-laying birds that may never see the light of day.
Acquiring a Novagen chicken presents a challenge here in the U.S. because of its rarity. If you do manage to find them and have them shipped to you, you need to keep in mind these chickens may end up mating with your flock members, further advancing the hybrid strain.
For ideas on our favorite picks of pet chicken breeds, see this article.
The Last "Cluck"
Novagen chickens are controversial among chicken owners, which leads to quite a bit of debate in online poultry-related forums. Whether or not to try your hand at raising a Novagen chicken basically comes down to a personal choice.
On a personal note, we bought a few brown Novagen chicks this year from our local farm store. The staff recommended them as the top layers of all the breeds they carried so we went for it. This was prior to the research done for this article.
At this point we've already invested some time and money into them so we're going to give them a fair shake. Had we known what we know now, we may have given it some extra thought before purchasing them.
However, a breed that can produce over 430 eggs per year is nearly unreal, and is a major draw since we're considering selling eggs this year. We'll keep you posted on how it's working out.
Shoot us an email if you do end up with these birds; we would love to hear about your experience!