Depending on your needs, buying an expensive chicken coop may not be necessary. If you're looking for an affordable chicken coop, perhaps a smaller coop for a few hens that won't break the bank is all you need.
And believe it or not, there are cheap chicken coops for sale under 200 dollars out there! We'll take a closer look at many of them here.
When I built my own coop, I wanted it to be big enough so there would be room to grow my flock but not break the bank. That was over 10 years ago, and there weren't nearly as many chicken coop options available as there are today. In fact, many coops today can be purchased for under $200.
Having said that…you will get what you pay for sometimes, right?? But there are a few good options in this price range to consider. In many, a few simple revisions can be made to make a "cheap chicken coop" into a decent, affordable, functional coop for your flock.
In the "under $200" price range, just know that you will rarely get a large coop which can house more than around 4 to 6 chickens. However – we DID find a few options in the price point that will house up to 8! So they can be found.
Below are a few of the most common Chicken houses available…I've summarized reviews, providing both positive and negatively reviewed products so you have a good idea of what you're buying. We never buy any product online unless we have a good feeling about it's quality (or lack thereof). We're hoping you find just the right chicken coop for your flock!
The coops are listed below in no particular order…
---
Aivituvin-AIR002 Expandable Chicken Coop | Easy Combine With Second House for 1-2 Hens
Features
Dimensions: 57 inches in length x 21 inches in width x 33 inches in height; Weight: Around 50 lbs
Made of Fir wood
Made for 2 (maybe 3) chickens
Asphalt Roofing
Pull out plastic tray which will not rust
Five doors for easy access into the coop and run
What Others Say…
PROS
Easy Assembly
One of the most affordable price points out there
Highly favorable reviews (thus far)
Good customer service
CONS
Will have to add your own roost
Not a lot of reviews yet
Questionable materials
Would not hold up to larger predators
Summary
This coop is showing great promise thus far, although it may be a bit early to tell how it fares over the long haul since it has not been listed for a long time. Although there aren't a lot of reviews, people have been loving this little coop so far!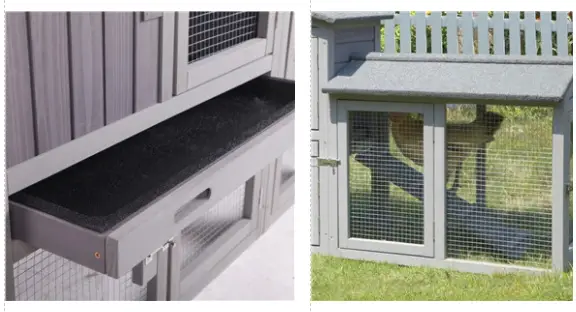 The description of the coop seems to focus more on rabbits, but there are reviews and pictures showing a few chicken owners really diggin it. Because of it's low price point, some customers bought 2 of them!
In looking at it in the images, it's highly unlikely to withstand larger predators, but looks sturdy enough to keep out raccoons or smaller critters. The price is it's biggest draw. If you're looking for a small coop capable of housing 2 larger chicken breeds, this is one to consider.
Previous customers who purchased coops through Aivituvin were pleased with the customer focused service they received, reporting quick resolution to any issues they had if the coop arrived damaged, had defective materials etc., which is an added bonus.
Below is an excellent customer video showing how the coop is assembled from start to finish. It also provides a realistic look at it's actual size, which can be hard to judge from some of the coop listings.
---
Chicken Coop With Large Run for 2-3 Hens- AIR028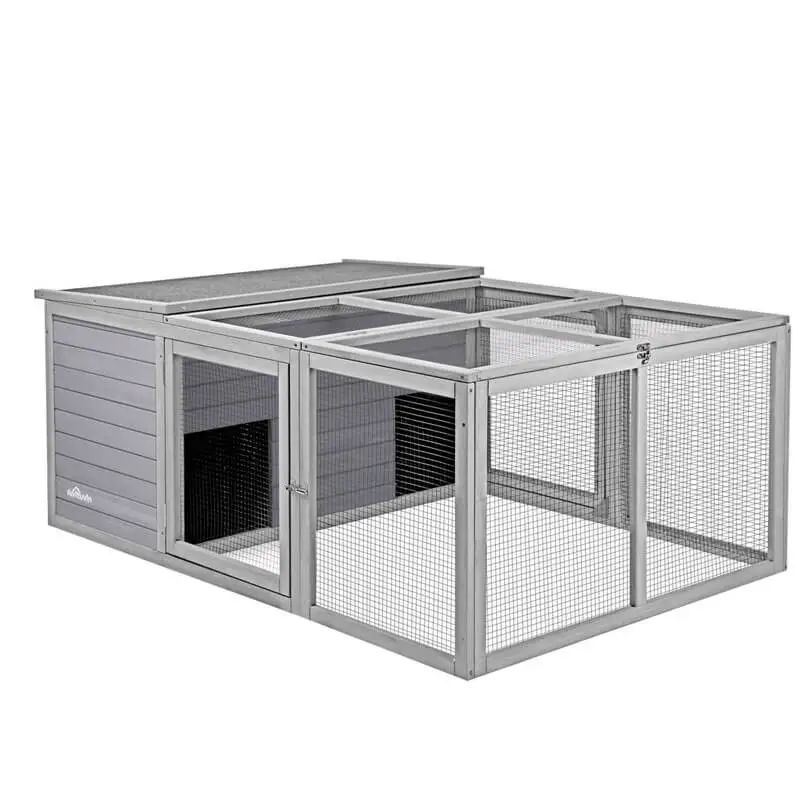 Features
62 inches (L) x 41 inches (W) x 26 inches (H)
Holds 2-3 chickens
Waterproof materials
Made of Douglas Fir wood
Run attached for additional space
Easy Top Access
PVC flooring for easy cleaning
What Others Say…
PROS
Simple, lightweight design
Easy to assemble
Easy to clean
For some owners of this coop who house rabbits, they kept it in their home as the profile is lower than other coop designs
Space could potentially hold 4 chickens vs just the 2-3 advertised
Lots of customer photos, showing pride in the purchase
CONS
No Roost
Nesting box and floor space all the same i.e. the nest boxes are not separated from the rest of the floor space.
Lightweight design would not hold up against larger predators
Not a lot of reviews yet
Summary
This versatile little coop has been used to house a variety of animals. The reviews indicate it seems larger than it looks. It's design is not flashy but is practical and easy to access for collecting eggs, cleaning, etc.
Good customer service and ease of assembly were both mentioned. The coop seems to be more popular with the rabbit raising crowd, but the reviews by chicken owners were positive. For the price, we are optimistic thus far. We'll see how the reviews hold up over time!
The next video is from a rabbit owner, but gives a great look and description of it:
FEATURES
Houses 2-3 chickens
Made of fir
Dimensions: 84 inches (L) x 28 inches (W) x 38 inches (H)
Lightweight at 71 lbs
Easy access outside door for gathering eggs
2 roosts
Asphalt roofing
Welded wire run
Pull out tray for easy cleaning
Vented – sliding door to open and shut it
Multiple doors and access points to get in the run
WHAT OTHERS SAY…
PROS
Double roost allows for more than adequate roost space
Directions were easy to follow
Well – packaged
Good customer service
Easy access
Simple, effective design
Waterproof
CONS
Flimsy materials
May not keep out larger predators
Not a lot of reviews so far
SUMMARY
There were not a lot of reviews on this product at the time of writing this, but the reviews available were mostly favorable. Many felt the coop was well made for the price they paid. Reviewers commented it was well packaged and did not arrive damaged, which can be an issue with pre-fab coops at times.
A common theme was that the coop came as advertised and the company was excellent to work with, one reviewer commenting that they replaced the item when a defect was seen.
Overall, the reviews for this coop are very promising, and the company seems to be delivering on quality customer service.
---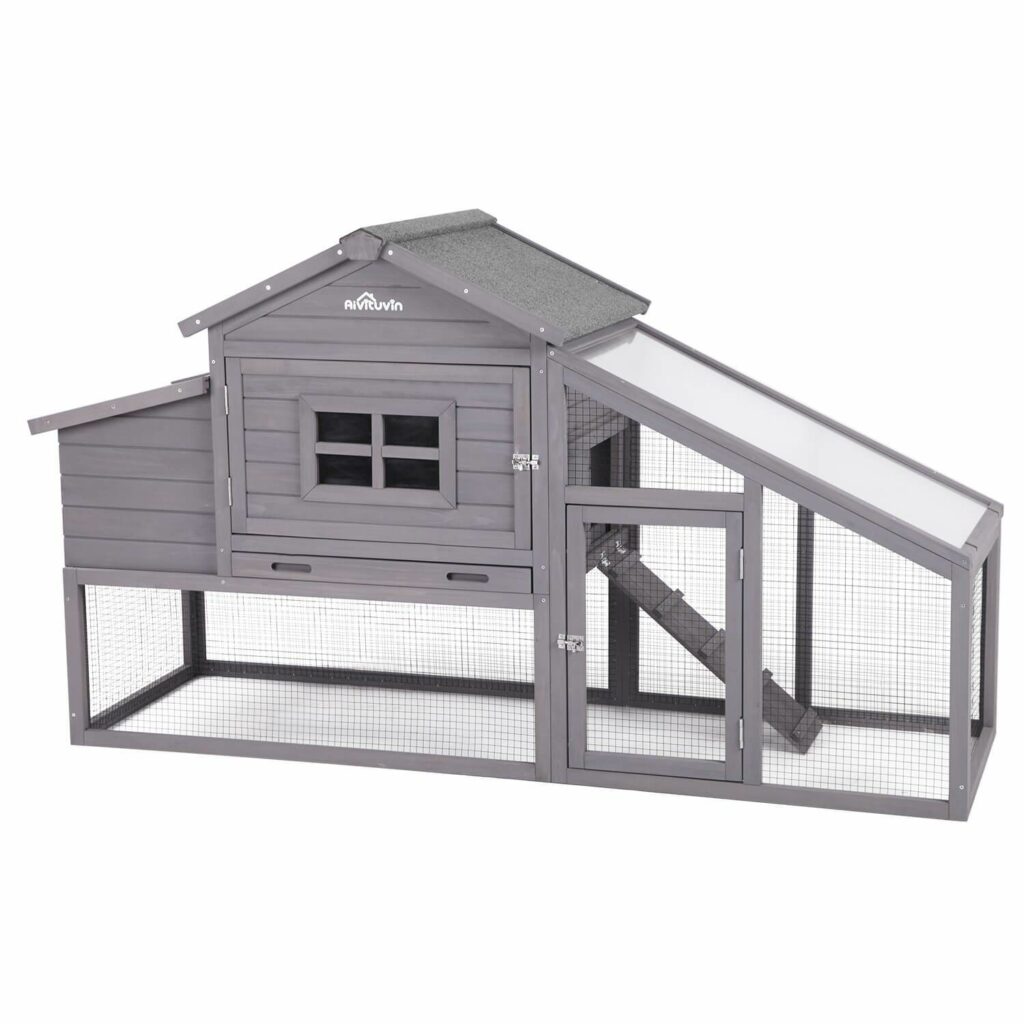 Features
Overall Dimensions: 67.3 inches (L) x 26 inches (W) x 39.4 inches (H)
Holds 2 chickens comfortably
Has a nearly 10 sf run space
Unique waterproof roof panel (UV resistant) over the run which also lets in natural light
Roost included
Pull out tray for easy cleaning
Large side door, providing easier access for cleaning, coop maintenance
Adequate Venting
Asphalt roofing
Outside lid for accessing eggs from the outside
What others have to say…
PROS
Easy to assemble. On comment "put it together in about an hour"
Good customer service with prompt replies. One reviewer said "Communication was same day"
Very lightweight at 46 pounds
Fast shipping
Stylish design
Weather proof roofing materials for both coop and run
CONS
Will not withstand larger predators
Some coops arrived with minor damage which most owners fixed themselves
Not many reviews yet
Summary
This coop does not have a lot of reviews yet, but the ones available are favorable. Good customer service is again a theme mentioned by many reviewers. Many reviewers also mentioned the coop was easy to assemble.
Another common theme was the view that it would not be able to keep out larger predators due to it's lightweight design and materials. Some owners pounded stakes into the ground and attached the coop to them to keep it from blowing away and to prevent predators from trying to dig under.
Some reviewers made revisions to the coop to make it larger. Due to it's price, some people bought two of them! One thing we liked about the reviews is a lot of customer photos, which helps to give a prospective buyer an idea of how it will look and function in their own yard.
We'll see if more negative reviews surface over time but, for the money, this little coop shows promise so far!
Below is the company's video description of the product.
---
Features
Pull out floor tray for easy cleaning
Run area below the coop allows for open run space
Multiple ramps for in/out access
Assembly required
What Others Say…
PROS
Price is good for amount of space
Slide out floor handy for easy cleaning
Easy to assemble
Good Roofing materials
A bit larger than comparable coops in this price range
Lots of real customer photos of the product to give a good idea of it's acutal size
CONS
Flimsy Materials
Modifications made to make it stronger
No roost or nest box
Warps in wet weather
Seemed to rate better for Rabbits than for Chickens
Summary
For chickens, it does not include a nest box. For the money, many people described it as a good starter coop which worked better for chicks. It's lightweight and roofing materials seemed adequate. It's also an attractive looking coop so the neighbors may not mind seeing it in your yard either. Some of the wood materials seemed a bit flimsy to others, who were concerned about possible warping. It's also a bit larger than many comparable coops in this price range.
For the price, this can be a good coop but it may require some additional materials on the part of the coop owner like adding locks to the doors, and installing a roost and nest box area. 
---
Features
Holds 3-4 chickens
3 bottom floor panels can be lifted out for easy cleaning
Nesting box with divider and hinges to lift lid from the outside
1 year warranty
Rain resistant
Dimension: 53″L X 25″W X 28″H
Wood is Cedar
What Others Say..

.
PROS
Roof can be removed for easy cleaning, and some people added hinges to it to aid in this process vs nailing it down
Easy to clean
Minimal modifications needed
Adequate space for more than 4 chickens, with some people having up to 7 or 8.
Easy to assemble
Attractive Design
CONS
Some people complained the wood warped when it rained
May not hold up well in harsher cold conditions without additional covering
A few complaints about floor design
Summary

 
Compared to other coops in its price range, this one ranked better overall because it has a roost and nest box inside and, although it's not perfect, the materials are more solid than in other designs. Fewer revisions needed to be made overall. Some positive reviews stated the coop is doing well after 3 years, showing it can better stand the test of time. Many reviewers either painted or added more protection against the elements to make it more durable in inclement weather.
Also, many owners of this coop felt that the company accurately represented the number of chickens this coop can hold at 4 chickens. There were other reviewers who said the coop could hold up to 8 chickens, but this was not typical.
For overall value, we'd pick this coop over many of the others in this price range.  The materials may not be as high end as in more expensive coops, but most reviewers were not having to make as many adjustments to the coop right out of the box. In other similarly priced competitors, this was a more common issue.
---
Features
Made of a blend of recycled wood and polymer, which is supposed to be non-toxic
Roof can be taken off for ease of cleaning
10 year warranty
Resistant to warping or cracking
Dimensions: 34 x 47 x 24.5 inches
Ventilated in back of coop, not easily visible on the outside
What Others Say…
PROS
Ease of Use – nesting box opens from outside
Some reviewers say it holds up to 8 larger sized hens
Easy assembly
Holding up in inclement weather
CONS
Roost is positioned a bit low
Depending on the kit you get…it may or may not fit together properly
Gets hot during the day due to design
Minimal light in the coop (no windows)
No door handle
Front door has fallen in for a few owners
Does not have a Run
Summary
Overall, this coop does better in rough weather than other models in this price range. The primary complaints were related to the front door falling in, no handle on the door, and poor ventilation. But even with these issues, many reviewers still rated this coop highly because of how many chickens it can hold (up to 8 in some reviews).
Also, very few people complained of materials warping, cracking etc., an accomplishment to be sure in this price category. It's light weight enough that it can be moved around the yard as well. We did not find reviews where predators broke into this coop, another bonus for it's design. 
This is a coop we recommend over others in this price range. It may not be perfect, but for the price, it's not a bad value.
Many owners of this coop have made a few revisions to the door by adding a stopper to keep it from falling in, and adding a handle to the door. Others have drilled holes in various places for added ventilation. And some reviewers attached a run to it (smart idea if your so inclined) as this makes the coop more complete as a unit and allows the chickens space to run around. Or, you can simply let them free range during the day.
---

Features
Removable tray for easy cleaning.
Made of high quality fir wood
Asphalt covered roof – long lasting, great protection against the elements
Good customer service – stating they have timely shipping.
Easy Installation – they report in as little as 20 minutes just using a drill.
Large space – it does not specify how many chickens it will hold, but most reviewers put it at 2-3.
What Others Say…
PROS
Easy cleaning
Price – one of the most affordable in the under $200 price range
Attractive design
Can be used for a variety of animals other than chickens
Easy assembly
CONS
Does not come with a roost – perhaps because it's designed for rabbits and/or other animals.
Install directions only show pictures, not words
Will not hold up well against large predators
A few design flaws – some revisions needed to be made to make it more sturdy
A bit small – best for 2 chickens
Summary
All in all, this little coop came out with decent reviews. Many people commented that it was much smaller than they thought but that it worked well for 2 chickens. As is common in this price range, some folks felt that a few revisions needed to be made to the coop to make it more secure, others said it was sturdy as is right out of the box. As for install, assembly times seemed to vary from 30 minutes to 2 hours or more.
The coop is quite small – we're amazed at how large they look in the pictures but when fully assembled, they're actually quite small.
Expect to make a few revisions here and there, like adding a roost to it and beefing up a few components that are loose etc. But for the money…not bad!
---
Closing Thoughts 
I hope you've found a few of the above coop review summaries helpful. If you want to know what to look for when either buying or building a coop, read this article first! You'll learn what is needed in a coop before you even get your chicks.
Also – please realize that if you're looking for coops in this price range, you'll have to be willing to tolerate a bit of poor quality and make adjustments to the coop as needed (like many reviewers did). If you're not willing to do that, you may have to look at buying the more expensive chicken coops or build your own.
Please leave a comment below if you've had any success with these coops, or if you've had better luck building your own coop. Thanks for stopping by!