If you ended up here, you're likely looking to buy a chicken coop online that is higher quality than some of the cheaper varieties, but not so expensive it's out of reach financially.
There are a lot of affordable chicken coops for sale in the $200 – $500 price range, which is generally in the "sweet spot" of what people are (ideally) wanting to spend on a better quality coop.
If you are still hoping to find a few cheaper chicken coops that may also suit your needs, check out our reviews on chicken coops under $200 here. Otherwise read on, and we'll take a look at the "next level" of chicken coops that can be bought online.
What we noticed in the "under $200" range is that owners occasionally had to make a few modifications to the coops to make them work effectively for their flock. We are hoping that, with an increase in price, comes an increase in quality as well…take a look at the findings below! They are listed in no particular order.
Please keep in mind that these coops tend to sell fast and the reviewed coops may no longer be available. We try to keep the list updated but we never know when a coop will be sold out. If this happens, they may not be permanently out of stock but are waiting for more to be made. If you see a coop you like and notice it's unavailable, please contact the company to find out if or when the coop will be available. 
Before you build or buy your next coop, read our free guide to picking out your next chicken coop. 
---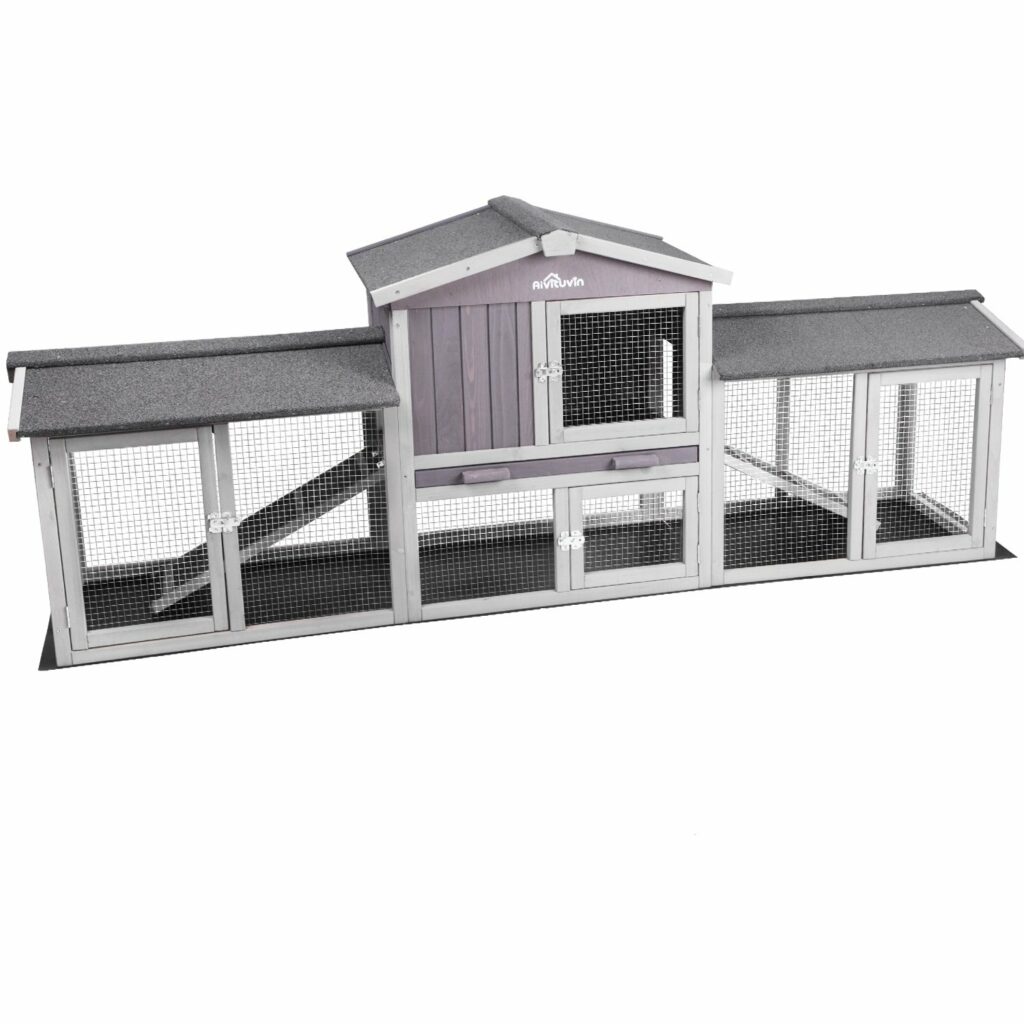 Features
4 Access doors between run and coop
Dimensions : 87.8 inches (L) x 20.5 inches (W) x 33.7 inches (H), Weight: 68 lbs
Can house up to 3 chickens (more if raising bantams, silkies, etc.)
Weatherproof asphalt roofing materials
Slide-out floor tray for easy cleaning
Made of Douglas Fir wood
What Others Say…
PROS
Easy to assemble
Lots of positive reviews (so far)
Good, responsive customer service
Love the look and functionality
People liked it's ease of access
Easy to clean
Asphalt roofing
Roomy run space
CONS
Does not include roost
Does not include nest box(es)
Few reviews for chickens so far (lots of people purchased for rabbits)
Summary
Reviews for this coop so far are very good…for rabbits! There are not a lot of reviews on how it would work for chickens, although it's made for both chickens and rabbits.
What we didn't like was that it did not come with a roost or set apart nest box. This isn't a deal-breaker as adding either of those accessories is not a big deal, but it would have been a big selling point.
The design is excellent! We loved the overall size of the coop, especially the run space. If it were us, we'd add a couple wheels to make it mobile as well.
If you're willing to add a roost and nest box, this could be a sweet little coop.
Below is a video overview as posted on the company website:
---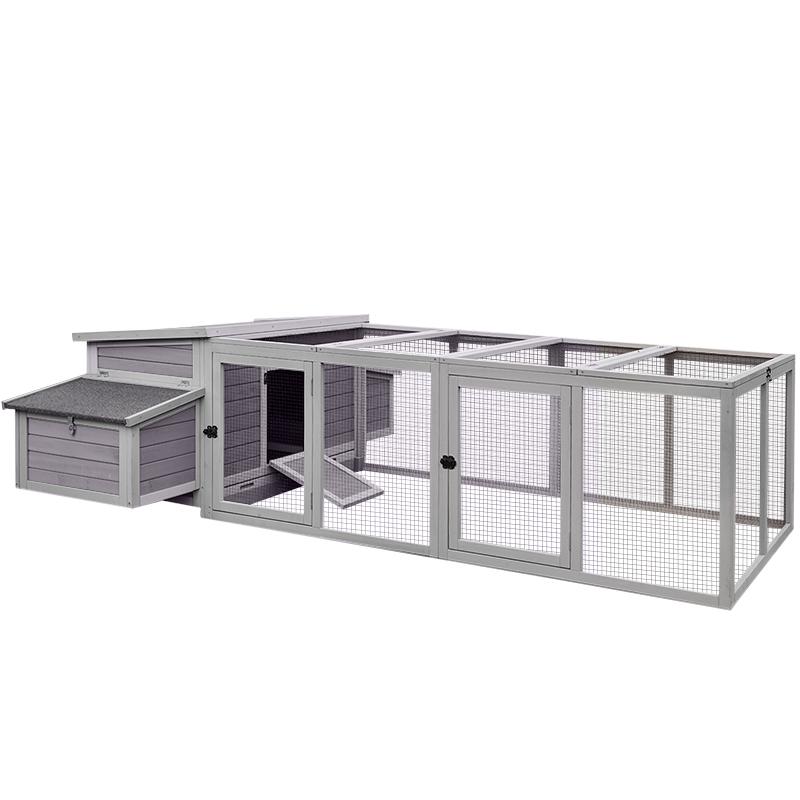 Features
Made of Douglas Fir Materials
Run is enclosed in 1/2 inch hardware cloth
2 Nest boxes (off the ground)
1 Roost
Houses 4-6 Chickens
Pull out floor tray for easy cleaning
Easy access from the top door
Dimensions: 103 inches (L) x 67 inches  (W) x 28 inches (H)
Weighs 98 lbs
What Others Say…
PROS
"Easy to follow instructions"
Fast shipping
Came as advertised
Good customer service
Good photos of the coop by actual customers
CONS
Limited reviews
Would not fare well against large predators
Summary
There are limited reviews of this coop so far. It looks favorable to date, but will see how it fares over time. Based on other reviews of this company, they are getting known for quality customer service, which is very helpful if your coop arrives damaged or does not meet your expectations.
We like the simple design, making it easy to access eggs from the top. The pull out cleaning tray is slick as well. Our favorite feature was the nest boxes being off the ground. If you wanted to make this coop mobile, just add some wheels and a handle!
Below is a quick overview of the coop as on their website:
---
Precision Pet Old Red Barn II Chicken Coop 
Precision Pet chicken coops are an easy and convenient alternative to building a chicken coop from scratch. The Old Red Barn II Chicken Coop fits 6-8 chickens and includes 3 internal nesting boxes. This chicken coop also features 1 external and 2 internal roosting bars, an asphalt roof, a pull-out cleaning tray,and multiple access doors for egg collecting. The Precision Pet Old Red Barn II Chicken Coop provides your chickens with a safe, durable, and easy-to-clean shelter with premium features. This product ships in 2 boxes and assembly is required.
What Others Say
PROS
Nice look and design
Removable floor trays for easy cleaning
Asphalt roofing for great protection from rain and snow
Easy to assemble
Can house 5 to 7 chickens
CONS
Latches do not work well out of the box and may need replacing or adjusting
Coop seems "flimsy" and if moved a lot should be reinforced by 2×4 around the base for added stability.
May not be predator proof against larger predators right out of the box – rocks added around the base, or adding some additional hardware cloth around the base is what some owners of this coop did for added protection.
Summary
The common themes in the reviews indicate poor latches. This can be remedied by replacing them with larger ones or larger hinges.
Another issue noted was cracked wood where the screws drill in. It may be worth it to pre-drill the holes before putting the screws in so as not to crack the wood. The wood used for many of the coops bought online is often dry and not overly thick so pre-drilling with a small drill bit will make it so the screw drives into the wood without cracking it.
Reviews from the web ranged from "its junk" to "I love this barn so much I bought 2." It's difficult to say if the quality can vary from coop to coop at the factory but we sometimes wonder how there can be such disparity in the reviews.
Some people complained the wood was not pressure treated, others said the hinges and latches didn't fit right, others said it was "flimsy" and "smaller than it looked" online. Still others said they put it together easily right out of the box and have have loved it ever since.
Depending on the coop that's sent to you, it may or may not be in perfect shape. If you see issues with it right out of the box i.e. cracked or warped wood etc. you have the choice of contacting the company and sending it back or making modifications to it to strengthen areas that are weak or poorly put together. After making modifications, many people commented they have since enjoyed the coop.
It's a great looking coop with some nice features: 3 nest boxes, 2 roosts, holds up to 7 chickens (larger breeds too), good venting for cross ventilation, slide out tray for easy cleaning. We found a satisfied customer who posted a video of the coop in use, which we added below. This may still be a good coop with a few modifications.
This coop can be purchased at PetMate.
---
Precision Pet Hen House II Chicken Coop
from: Petmate
Precision Pet chicken coops are an easy and convenient alternative to building a chicken coop from scratch. The Hen House II Chicken Coop fits 5 chickens, includes 2 internal roosting bars, and 2 nesting boxes. This chicken coop also features multiple access doors for egg collecting, an easy clean slide-out tray, and an asphalt roof for extra protection. The Hen House II Chicken Coop provides your chickens with a safe, durable, and easy-to-clean shelter with premium features. This product ships in one box and assembly is required.
What Others Say
PROS
Holds up to 7 chickens
Well designed
Easy to Assemble
Waterproof asphalt roofing
Removable tray
CONS
Latches don't work properly
Flimsy wood/material
Some reports of leaks near nest box
Poor Ventilation
Summary
Again, mixed reviews for this coop. Poor latches and occasional leaks near the nest box are the main issues noted. Some reviewers reported that there was a leak above the boxes as well which could indicate a design flaw, but at this time it does not appear to be a widespread problem.
Some owners noted damage while shipping.
Those who loved the coop said it worked great right out of the box and that it was easy to assemble. Some made revisions to it like adding wood glue as a way to strengthen it.
We think the removable sliding tray for easy cleaning is a big bonus, and we love asphalt roofing for longevity against the elements. We'll continue to monitor the reviews on this coop. It's been selling well and sold out on many different websites. As of now, it can still be bought at PetMate.
A video review from someone who owns this coop is below.
---
Precision Pet Red Barn Ranch Chicken Coop
from: Petmate
 Precision Pet chicken coops are an easy and convenient alternative to building a backyard chicken coop from scratch. Intelligently designed and requiring only a screwdriver for assembly, the Red Barn Ranch Chicken Coop assembles in eleven easy steps. Constructed of solid wood with a plastic corrugated roof, this coop is a practical way to keep between 5-7 chickens and features an extra-wide foraging area. Easy access nesting boxes and slide out cleaning trays make the Red Barn Ranch Chicken Coop safe and easy-to-clean. Product note: Due to the size of this product an over-sized item shipping surcharge will be applied at checkout. This item is eligible for ground shipping only.
What Others Say
PROS
Large area for at least 5 chickens
Easy to assemble
Convenient slide out tray for easy cleaning
Walk in design is helpful for coop access
Multiple doors for easy access
CONS
Latches may need adjusting
Materials seemed thin, flimsy
Some revisions needed to be made to strengthen it
Summary
There were not a lot of reviews on this product so far. Ease of assembly, walk – in coop door, multiple access entrances were big selling points.
Small or poorly fitting latches and flimsy materials may be an issue but it's a bit early to tell. The price seems fair based on the size of coop and the features it comes with. We'll continue to look for reviews and update the review in the near future.
Below is a video on how to assemble the coop to give you an idea of how simple (or complex) it is to put together. They've done a good job of making it fairly simple to put together with only needing a screwdriver or drill. Just be aware you may need to make a few revisions to it for added strength and usability.
This coop can be purchased at PetMate.
---
Features
Easy assembly – the company quotes "about 20 minutes" to put together with a drill or screwdriver
Asphalt roofing material for superior waterproofing capabilities
Made of fir wood with coat of varnish to protect against the elements
Cage is wire mesh, and has UV resistant and anti-corrosion properties
Removable slide out floor tray for easy cleaning
Hold up to 6 chickens
Great ventilation
Several doors/openings for easy access for collecting eggs, handling the chickens, cleaning.
Enclosed run for added space to roam
2 nest boxes
2 roosts
12 month warranty
What Others Say
PROS
Easy to assemble
Looks great
Sturdy
Waterproof
Holding up to cold weather conditions
CONS
Lightweight – may need to be secured to the ground to stand against strong winds, predators
Tight for 6 chickens, possibly better suited for 4
May not stand up to larger predators
Some owners noted flimsy materials – ramp warped over time, if moved too often the hinges and other components start to loosen up.
Summary
Overall, this coop has more positive reviews than negative. Common positives included ease of assembly and the chickens being comfortable in it.
One reviewer thought it was better suited to just 4 chickens, yet many owners said that it held 6 chickens adequately.
Some reviewers provided updated reviews after 6 months, noting the coop was still holding up well and they were enjoying it.
As with many coops that are purchased as a kit, some revisions were made – some owners making the outside structure more secure by adding 2×4 around the base. Others added an additional run to the existing run for more space. And other owners applied some additional sealant and caulking because they live in a cold weather climate.
We liked the ventilation components at the top of the coop. There are a lot of vents and sliding doors built into a cupola (the box like part jutting out at the top of the coop) which is not only functional but looks great too.
Also, we noted the base of the ramp is not positioned closely to edge of the run, which can be an issue with smaller coops. The angle of the ramp is not too steep and has plenty of grip bars for going in/out of the coop.
This coop seems to be  winner. It's not perfect by any stretch but seems to be worthy of it's current price tag as noted by many of the reviews. The company provides a 12 month warranty which is also encouraging – the details of it are not clearly stated, however, so it would be wise to check with the company to see what it entails.
This coop is still relatively new so we'll see how it holds up over time. It can be purchased at Amazon while supplies last. As of this writing, it simply says "in stock."
---

Features
Removable tray
Waterproof design – asphalt roof
Wire steel mesh in the run is anti-corrosive
Coop made of fir, and is painted for added protection against the elements
Company is willing to replace any damaged parts – take a picture and send it to them and they will help you
Run attached for additional space to roam
Well ventilated
Holds 2 chickens
Dimensions:  46 inches (L), 37 (H) , 24 (W)
What Others Say
PROS
Easy to assemble
Well made
Fast shipping
Nice design
Good instructions
Easy to move if/when needed
CONS
"Seemed smaller than I expected"
Latches and locks are not of high quality
Summary
The vast majority of coop owners said this coop seemed small but held up well in the elements. Also, many of the reviews were from people who owned rabbits. But for those who own chickens and used this coop said plan on using it for no more than 2.
Owners of this coop said the ramp could be a bit slippery for their flock. We've head this about other coops with an asphalt ladder. It does have the rungs on it as well, which will allow the chickens to get something to grip on for going up the ramp.
Having multiple access points was a draw for others, providing easy access for cleaning and collecting eggs.
We did NOT hear of poor quality wood which suggests it's holding up okay against the elements. However, the locks and latches appear to need replacing to make it less apt to get broken into by a wily raccoon.
The coop has a nice window in it for ventilation, and seems easy to move if/when needed. If it seems too small another run can be added to it.
Most owners of this coop said they liked it, and some purchased several of them. We are in a "wait and see" mode for this coop. It had the most reviews of any coop we looked at, and most of those were positive. Negative reviews mentioned poor latches/locks as the main issue, but it can be easily fixed by buying new ones.
This coop can be purchased at Amazon and there were no notes on availability. But we know many of the coops on Amazon get snapped up pretty quickly so if you're thinking of getting it, you may not want to wait too long.
---
Features
Easy assembly (manufacturer estimates 40 – 50 minutes)
Predator proof
Raised coop area keeps chickens off ground, away from predators
Easy access – roof can be removed for cleaning
Good ventilation – has several vent slats
Contains 3 doors with latches (can be locked for safety)
Waterproof roofing – asphalt material, sloped roof for shedding water
Made of Fir wood, steel mesh wire
Overall Dimensions: 112 inches (L) x 52.4 inch (H) x 37.4 inch (W)
Packaging is reinforced to prevent damage during shipping
1 year manufacturer warranty – free damaged part replacement during that time frame
What Others Say
PROS
Can hold up to 6 chickens (one person said 10)
Larger than other coops in this price range
Easy to assemble
Easy access for cleaning and gathering eggs
Nice design
Great ventilation
Manufacturer's warranty
CONS
Materials seem flimsy in areas.
May not hold up well over time without better weather proofing
May not hold up to larger predators
Summary
This coop is a bit larger than others in this price range, which is a bonus. It has very few reviews so far but the ones out there are promising. Some said it was what they expected and has worked great. One reviewer commented she owned it for a year, loved the design, but said it needed additional weather proofing.
We are hopeful this coop will be a winner but time will tell. We liked the number of vents in it as ventilation is lacking in many coops.  The price tag is a bit steeper than in similar coops but it seems a bit larger to account for that. Also, the manufacturer offers a one year warranty, meaning they believe in it's quality as well – a good sign.
It can be purchased at Amazon while supplies last. As of this review there 12 left in stock. Below is a video from one satisfied owner of this cute coop.
Features
Built in planter box
Well designed – nest box on outside of coop
Easily accessible with two hinged doors – nest box and side entry
Slide out tray for easy clean out
2 roosts inside
Main coop area elevated off the ground
Attached outdoor run
Made of fir wood materials, and steel wire mesh
Waterproof roof – made of asphalt materials

Overall Dimensions: 63 inches (L)  x 31.5 inches (W)  x 43.25 inches (H)
PROS
Attractive and well designed
Nest boxes on the outside make it convenient for collecting eggs and allows for more space inside the coop
Holds up to 4 chickens, maybe more according to some owners
Solid roof
Easy assembly – some owners said it took under an hour
"Sturdy"
CONS
Run is adequate but would be better if a bit larger
One roost (some owners of this coop added another)
Good packaging – coop arrived without damage
Could not hold up to larger predators like fox, coyotes.
Additional ventilation would be beneficial
Summary
There were several reviews of this coop and we're excited to report they were mostly favorable. As for size of the coop, the vast majority housed up to 4 chickens and did not recommend any more or it was too crowded.
The manufacturers, oddly, left it up to the consumer to determine how many chickens they wanted to house in it. Some owners still described it as small and preferred to house no more than three chickens.
There were some discrepancies in the reported quality of this coop, some calling it "sturdy," others saying it's "not sturdy at all." So much of this can be dependent on whether they lived near predators or not. Those living in areas with larger predators (fox, coyotes etc.) did not feel it was adequate to withstand them and had to make revisions for added safety.
Easy assembly was a common theme, which is  good sign. Some owners of this coop felt it needed a few adjustments to make it more sturdy, one adding more screws for added strength, another adding an extra layer of water seal for further protection from the elements.
One idea we thought of for revisions could be converting the planter box to a storage area for feed, bedding etc. by adding a cover over the top of it. That is, of course, if you're not planning to use it for growing plants.
However, many assembled and used this uniquely designed coop right out of the box and have enjoyed it ever since. We'll see how it performs over time. This coop can be purchased at Amazon.
---
PawHut 77″ Wooden Weatherproof Backyard Chicken Coop Kit with 2-Part Nesting Box and Run
Features
Made from fir wood, treated for added durability and protection from the elements
2 Nest boxes
4 Roosts
Can house up to 4 chickens
Attached outdoor run for added space to roam outside
Lots of doors for easy access for cleaning, collecting eggs
Asphalt roofing for supreme weatherproofing capabilities
Slide out floor for convenient cleaning
Dimensions: 77.25 inches (L) x 30.75 inches (W) x 38.5 inches (H)
What Others Say
PROS
Easy to assemble (despite poor instructions)
Good customer service if there are issues with the product (damaged parts etc.)
Roofing solid and waterproof over time
Great short term coop
Works great indoors
CONS
Poor instructions for assembly
Won't stand up against larger predators due to small, lightweight latches
Seems smaller than expected
Some reports of materials being "flimsy"
Summary
This coop has a wide array of positive and negative reviews, and there were a lot of both. The majority of the negatives included flimsy materials which can sometimes warp. Other reviewers noted that the roof design is unique and looks great but the fascia straps had to be reinforced. Many said it seemed much smaller than it looks and would house 2 chickens comfortably, but was a bit tight for 4.
Despite the negatives, many people still loved the coop for it's unique design. Many of those who liked it said they kept it indoors, hoping it would hold up longer. Others said it held up great in inclement weather, one person noting they owned it for 8 months and it was still faring well.
It's hard to believe how the reviews varied so drastically. One theme we noticed among people who liked the coop is they made reinforcements to it to make it more solid: adding better latches, adding another layer of paint or stain, gluing, caulking, or adding additional screws to areas where quality seemed to be lacking.
It's unfortunate that these measures needed to be taken. This coop can still be very functional but may not hold up for many years without making some revisions or keeping it inside a building, barn etc. If you're open to doing that, this coop may still work great. We don't enthusiastically endorse this coop but definitely see it's potential. It can be purchased at Amazon.
---
The next few coops are marked as "currently unavailable." If you like one of these coops, you can reach out to the manufacturer to see when this style of coop will be available. Or, if it's an Amazon product, they may recommend a similar style and priced coop. 
---
Features
Made from treated lumber (tongue/groove design)
Metal floor (galvanized) for easy cleaning
Houses 2 – 3 chickens
1 nest box, large
2 roosts
Dimensions: 6ft 8 inches long x 2ft 7 inches wide x 3 ft 4 inches tall
Predator proof – even from larger predators Fox and Coyotes
Delivered in 2 separate boxes
Easy to follow instructions
Attractive design
What Others Say
PROS
Beautiful design
Easy to follow directions
Easy to assemble
Chickens love it
Good backyard coop
CONS
Materials are thin and flimsy
Started coming apart after a short while
Smaller than imagined
May need revisions/reinforcements to make it more sturdy
Summary 
Many owners of the coop are very excited about it! Some report that the design makes it look very nice in their yard or backyard. As with a lot of coops in this price range, the wood was described as "cheap," "flimsy" but others thought it held together well.
Some owners thought the manufacturer was accurate when stating that the coop can house 3 larger chickens. One reviewer said it held 4 Bantam chickens comfortably as well.
Across the board, people commented how easy it was to assemble. Some people suggested weather proofing it to better withstand against the elements. This may depend a lot on what type of climate you live in, however.
The coop has not been around very long and reviews are limited. So far, this nice looking little coop is getting mostly positive reviews! We'll see if this is the case moving forward. It can be purchased at Amazon.
---
Features
Nest Box – hinged to open from the outside for easy access to eggs
Has a double run design, one out each side of the coop
Sliding window (screened) for good ventilation
The run layout can be made into several configurations (see pictures)
Galvanized chicken wire enclosure to keep predators out
Coop has several doors, making it easy to clean (see pictures)
Lockable doors for added protection
Asphalt roof for superior water resistance
Made of Fir wood
Dimensions: 

114.25 inches (L) x 28 inches (W ) x 46.75 inches (H)
What Others Say
PROS
Attractive design
Easy to follow instructions
Easy to Assemble
Good waterproof roof
Plenty of room for 3, maybe  4 larger chickens
CONS
Doors swelled and would not open properly when coop got wet
Coop has thin, light materials that may not be durable over time
Latches on come doors are simply wood pieces and need replacing with metal latches
Summary
There are not a lot of reviews available yet on this lovely little coop. But the feedback from reviewers thus far has been mostly positive! We hope this trend continues and people find this coop to be a good value. Great looks and flexibility of run design are highlights of this coop.
Some owners stated that the materials warped when wet, which could be addressed by taking the doors off and sanding the edges a bit. Or, the problem could also be lessened by adding an additional layer of paint or stain to the coop. Like other coops in this price range, the materials it's made of are lighter and not as solid as buying the materials yourself and building your own.
However – considering a lot of the work is done for you, having to make a few modifications here and there may not seem like a big deal when compared to building a coop from scratch…food for thought. It can be purchased at Amazon.
---


Features
 Predator proof – even, Fox and Coyotes

tongue and groove wood siding
Metal pull out floor for easy cleaning
Made with treated lumber
2 ventilation slots
2 removable roosts
Asphalt roofing materials for durability against the elements
Comes in 2 boxes which may arrive separately
Dimensions: 6ft 7″ x 2ft 5″ x 3ft 4″
What Others Say
PROS
Easy to assemble
Attractive design
CONS
Flimsy, crooked materials
Materials cracked easy during install
Poor craftsmanship and hardware – latches breaking off
Much smaller than it looks in the pictures
Not likely to keep predators out
Summary 
Unfortunately there are very few positives for this coop. I was excited to review it in this "under $200" range because it looked big in the pictures. But the dimensions tell a different story, and many reviewers noted the same discrepancy. Across the board, poor quality of materials was noted as a significant problem as well.
Other than the attractive design and ease of assembly, there were no other positive reviews. If you want to take a chance on this coop be our guest, but it may take some significant modifications to keep it from breaking apart.
To be fair, there aren't a lot of reviews out there yet for this particular coop. But if the current trend continues, it may not last long on the market. If you absolutely love the look and design enough to take a chance on it, don't say we didn't warn you:) It can be purchased at Amazon.
---
Features
Houses up to 4 chickens.

Has removable sliding tray – this helps a lot if you plan to clean your coop often. If you're planning to use the deep litter method, it may not be necessary.
Rainproof roof.
Nicely ventilated with 2 sliding windows.
Easy access to nesting boxes with open and close design.
Dimensions: 79.5″ (L) x 26.5″ (W) x 51.5″ (H)
What Others Say
PROS – Overall, it get's positive reviews for it's ease of access and how easy it was to assemble.
Easy To Assemble
Nice compact design
Easy to Access Eggs
Pull out tray very useful and convenient
Looks Good
CONS  – There are a fair number of complaints that reviewers aired…here are the most common. Caveat: many mentioned that the inherent "flaws" could be remedied by purchasing a few more items from the store…
Too light – a strong wind could blow it over.
Nest box door not secured.
Nest Box floor has gaps large enough for predators to enter.
Window holes are large enough for predators to fit through – many reviewers added mesh wire.
Seemed too small for 4 chickens.
Wood felt soft.
Materials don't always stand up to the weather i.e. warping over time.
Summary
Overall, this coop received more positive than negative reviews but many people had to make multiple revisions to the coop after purchase such as: securing it to the ground so it wouldn't blow away, reinforcing the bottom of the nest boxes and floor, and adding latches. If you live in a particularly wet area, it may not hold up to the elements over time.
So for the price, it may suit your needs just fine as long as you're willing to put a bit more money into it to make it a bit stronger. It can be purchased at Amazon.
---
*We will be reviewing more coops as time goes on so please stop by often!*
---
Closing Thoughts
If spending this much money online without seeing the coop is scary for you, we totally get it! It's a lot of money to dump on something you're simply seeing a few pictures of online. You can always just peruse the options available at your local farm store where you can actually get a first hand look at ones and get some additional information from the staff.
You can also find some local chicken coop builders on Craigslist or OfferUp. Many of these companies will allow you to see their coops upfront and may even deliver for you.
However, the only downside to either buying at your area farm store or local Craigslist is selection…they may not have a large variety of coops to choose from. And that's when looking online can really open up the possibilities.
What we noticed when researching the coops in this price range is that owners had to make a few revisions to the coop to beef up it's overall quality, which is unfortunate. However, when you think about how much time and money was saved, it may not be such a big deal to make these modifications after all.
Think about it. The coop is already made and shipped to you at a price between $200 and $500. If you had to come up with a plan (which is time consuming) and then buy all materials at your local box store (also time consuming and frustrating), it would place you roughly in that same price range anyway…just food for thought.
Having said that – many people LOVE the idea of making a coop the way they want to make it, so the added time and planning is no big deal.
My hope is that you've now been inundated with enough information to choose the coop that's right for your wallet and your flock.
Where To Find Chicken Coops Online
We wanted to provide you with resources of where to look for coops online. There are dozens of styles and varieties available and one of them is likely to catch your eye. Prices range from under $200 to a few thousand dollars for the larger, high end coops. Peruse through them to see if there are other choices you may like that are not covered above.
Thanks for stopping by and good luck finding your next chicken coop!
Like this page? Pin it