This coop design is a beauty! It's a free 6×20 chicken coop plan for up to 15 chickens. It includes a 5ft x 6ft coop space and an attached covered run.
The run is HUGE and, because it's covered, can potentially hold more chickens and/or roosting space in it.
As it's currently designed, we'll estimate it will house around 8 to 15 chickens. That is, if we're looking solely at coop living space which is 5ft x 6ft.
Here's the breakdown:
5ft x6ft = 30 sf.
30/4sf per chicken = 7 (or 8) chickens.
30/2sf per chicken = 15 chickens
With the large run attached (120 total sf), they'll have plenty of room to roam around since the recommended space per chicken in a run is 10 sf per chicken. Although this is slightly less than that for 15 chickens (120sf/15 = 8sf per chicken), we feel it's adequate.
We would NOT recommend more than 15 chickens in this coop, however, as it will limit the amount of run space by too much.
---
fabi-carolina-coop-final

---
Ideas For Revisions
This coop is a beautiful coop as-is. If you still want to add your own twist to it, knock yourself out! After all, it's YOUR coop and you can make any customizations you want.
In looking it over, we came up with the following ideas for revision. Again – these are just ideas we came up with reviewing the plan. Feel free to "take em or leave em!"
A few components were not shown in the plan, so we added a few thoughts on door placements, roof ideas, and more. For tutorial on framing and basic construction, see this article.
Nest Box
This isn't clear from the plan. The framing of the wall where the nest boxes go needs to be added, similar to the diagram below. To accommodate the current dimensions of the nest box, the span between the wall studs will have to be 38 inches wide x 12 3/4 inches high.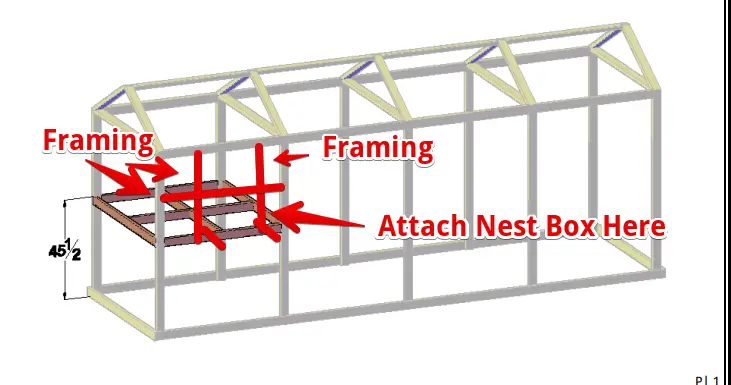 If you want to make a larger or smaller nest box, you can build it any size you want! For example, if you want to have a 5 hole nest box, frame it so it runs all the way across on that side.
Roof
The roof is metal which, in our opinion, is the best! However, don't be afraid to use asphalt shingles, roll roofing, cedar shakes, or whatever you have in mind. As long as it keeps the rain out, no big deal! We like metal because it'll last for decades, but it costs more upfront.
Also the plan doesn't show a ridge cap, which is installed over the peak once the rest of the roofing is in place.

To see a great video of how to install a ridge cap over metal roofing, check it out below…
Opening From Coop To Run (Pop Door)
The opening from the coop to the run is not shown. We added a crude diagram below showing a potential placement. A good size opening for a pop door is 12 inches x 12 inches, with a 5 ft ramp angling down to the ground.
The ramp, or ladder, can be a 2×6 inch board (or 1×6) with a few ladder rungs nailed onto it. Rungs can be made of 1 inch by 6 inch boards, and be spaced about 6 to 8 inches apart. These will provide something for your flock to grip onto when going in and out of the coop.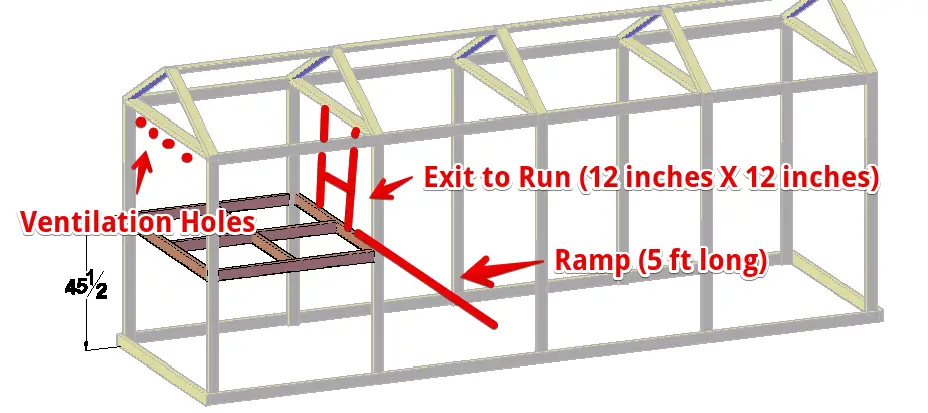 Ventilation
Ventilation is very important for your flock. Although this open design has a large run enclosed in hardware cloth, the coop itself does not have a lot of ventilation built into the design.
Adding a few 2 inch holes along the top with hardware cloth over them will help. (see above drawing for potential placement of ventilation holes)
Doors and Run Frame Height
The door to the run is not shown. You can build this door any size that suits you, and place it anywhere you like. We made a crude drawing of a suggested location. (see below)
The coop access door is also not shown. It may not be needed if you were to make the pop door large enough to reach in and clean the coop, get at the chickens, etc.
However, we included a drawing (below) with a suggested location for it, along with the height of the run itself (8 ft tall).
The size of the coop access door can be whatever works best for you. Just make sure to frame the wall to accommodate the door size you're planning to build. In the drawing, it's 48 x 50 inches.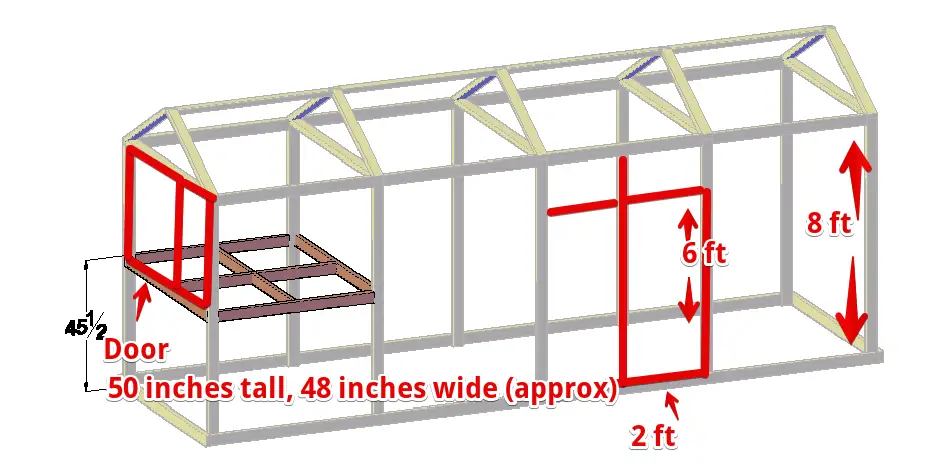 Another placement idea is to install the coop access door from inside the run on the same side as the pop door. The pop door could remain in the same position, just built into the coop access door. See drawing below. Ideas for dimensions included but can be whatever size you prefer.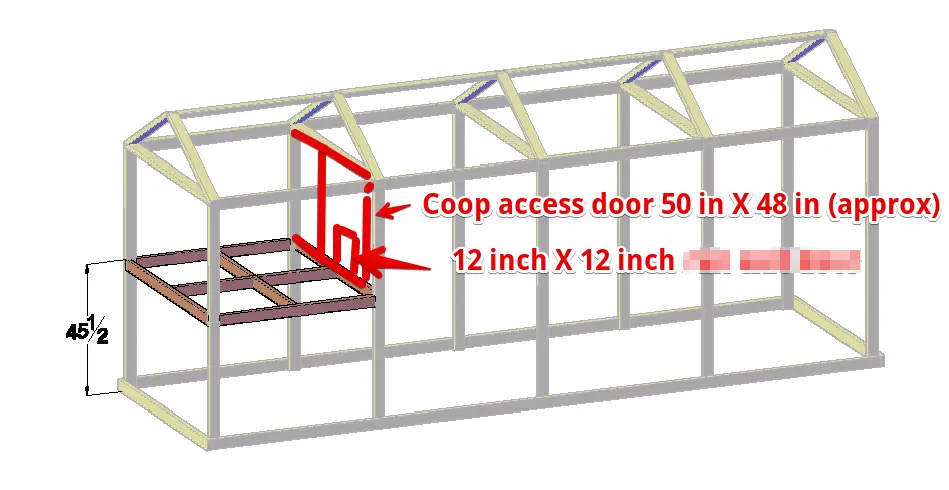 Closing Thoughts
We hope this large plan with HUGE run will work for you. Because of it's larger size, it will require some serious effort compared to other plans listed on our site. However, the end result will be a gorgeous coop!
If you don't think this is the right design for you, no problem. Take a look a few others on our site. There are many others plans capable of housing any number of chickens!
We hope you find a design that's right for you. Did we mention they're free!
If you're still not sure how to set up your coop, what's needed, etc., see this free guide to get you started.
Thanks for stopping by! Best of luck to you in building your chicken coop. Happy "Chickening."
Like this plan? Pin it