This next plan is a simple, lower coop design, which is lightweight and will work well in area with few predators. It's a free 4x4x8 chicken coop and run plan for four chickens of any size. If you have Bantams, Silkies, or other smaller breeds you may be able to house up to six.
If you're still in the process of what coop design you're wanting, see this article.
Made of 2×2 framing, it's weight will be less making it easier to move around your yard. The 2×2 framing with plywood siding and wire mesh over the run is plenty strong for chickens. However, it may not keep out a determined predator like a racoon or coyote.
This beauty is likely best suited for backyard use, or a rural area with fewer predators.
---
sanowarr-PDF-Combined-Final-4x4x8

---
Additions and/or Ideas For Revision (optional)
This plan is done in autocad, not sketchup, so lacks the usual 3D views we normally get. However, the dimensions are precise, and the coop is essentially ready to build.
Below are a few thoughts we had for possible revisions, all of which are optional.
Roof
The roof is a simple lean-to style roof. For building purposes, these seem to be the easiest since you're not fiddling around with building a gable, determining roof pitch, etc.
For materials, metal works great for roofs with minimal slope as the water does not shed off quite as easily on more steeply sloped roofs. Plus, metal will last longer than any other roofing out there.
Having said that, if you prefer to use roll roofing, it will also work. Just know that you will not get more than around 10 years out of it. Not bad…but not as long as a metal roof.
We would not recommend asphalt shingles for this coop design since the slope is too low and water will not drain off as effectively.
Wheels?
This coop is already lightweight because of the materials used to build it. Therefore, it may be simple enough to move around your yard as it currently stands.
However, by adding wheels you can make the process that much easier! Just two wheels on one one, leaving about a 1/2 gap between the frame and the ground.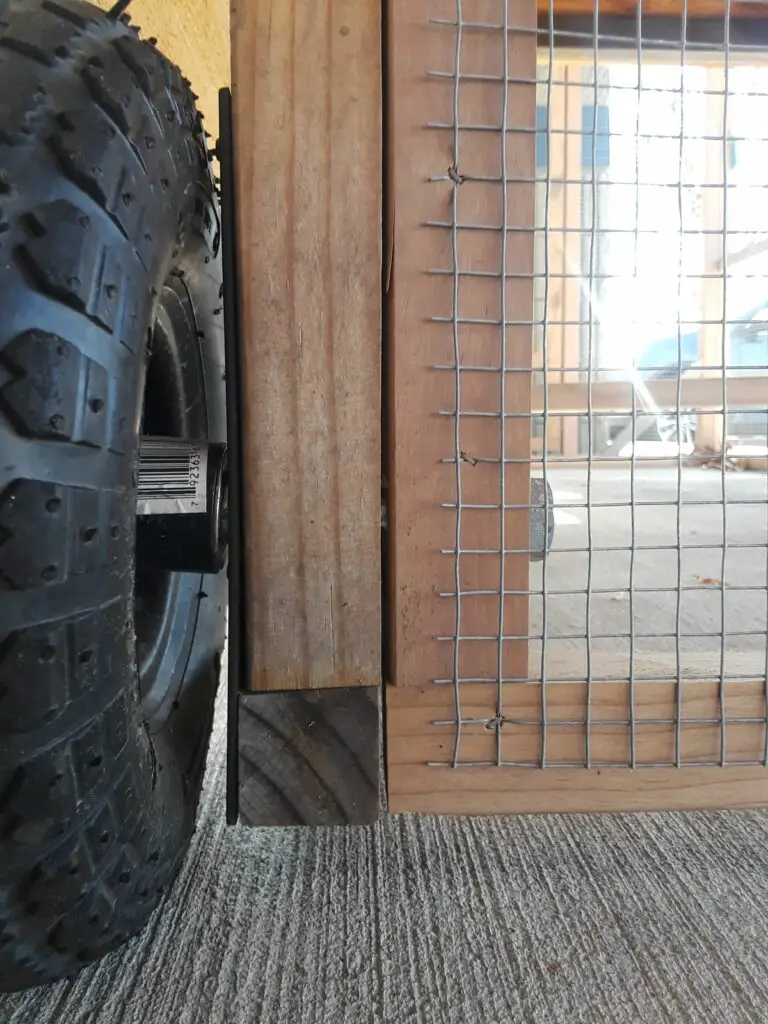 Then add two handles, one on each of the opposite sides as shown below. Two 2x2x6 or 2x2x8 pieces of lumber should do the trick.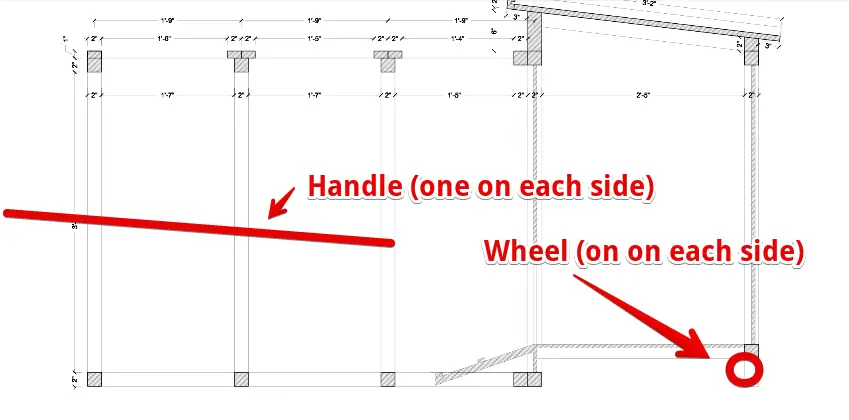 Siding
The siding can be made from exterior grade plywood. If you like the look of lap siding, that's another option! It may cost more than plywood, but will look great.
If you decide to use lap siding, you'll want to add some OSB plywood over the studs. OSB is not like exterior grade plywood in that it's just sheathing that is nailed or screwed into the studs. The lap siding will get nailed onto the OSB and studs.
It's more work, cuts, expense, and time, but the final result will be a gorgeous, sturdy coop. With lap siding, your coop might look like a small house.
Cedar siding is great and will last a long time. Hardi plank and other types of siding can be used as well.
Here's a video of how to install lap siding.
Final Thoughts
We hope this plan gives you a few ideas of how to build your own chicken coop. It's A LOT of work, but so rewarding once it's done. When you finally see your flock enjoying themselves in your homemade coop, it's an incredible feeling!
With some time, planning, and preparation, building this coop is possible for anyone. If you aren't interested in this plan, take a peek at some of our other FREE plans on this page.
Thanks for visiting. Happy Chickening!
Like this plan? Pin it